NNPC awards Trafiura, Oando, Sahara Energy, others contract to lift 1.3 million crude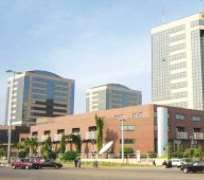 Oando, Sahara Energy, Masters Energy and 36 other local and international oil firms have got the nod of the Nigerian National Petroleum Corporation  for the purchase and lifting of Nigeria's 1.3 million barrels per day crude oil in 2017/2018.
Nigeria's state oil company said on Wednesday that more than 30 companies, with nearly half of those foreign entities, have received one-year term contracts for crude oil.
Based on current oil prices with  the Brent at $55.47 per barrel, which it traded on Wednesdy, Nigeria is expected to rake in about $72 million daily from this new contract.
Each is for 32,000 barrels per day, apart from a subsidiary of the NNPC, Duke Oil, which gets 90,000 bpd.
The successful bidders consist of 39 winners with 18 Nigerian companies, 11 international traders, five foreign refineries, three National Oil Companies (NOCs) and two NNPC trading arms.
Hindustan Refinery, Varo Energy, Sonara Refinery, Bharat Petroleum and Cepsa were the international refineries, which made the NNPC crude oil export list.
The corporation also entered into agreement with India Oil Company, Sinopec of China and Saccoil of South Africa.
Maikanti Baru said in a statement that more than 220 companies put bids forward, which he said is a testament to transparency in the Nigerian energy sector.
"There is nothing that is hidden just as you have seen today," he said.
No U.S. refineries were listed among the recipients of the new terms. Swiss trader Trafigura, the trading arms of British supermajor BP and France's Total were among the international players.
Trafigura last year disclosed that it made about $14 billion in payments to governments or government-controlled companies in 2015, a decline of about 24 percent from the previous year. For the first time, the company said it was disclosing the payments it made in all of the countries where it does business, not just those party to the Extractive Industries Transparency Initiative.
Nigeria is exempt from an agreement crafted by the Organization of Petroleum Exporting Countries to cut production because of militant attacks on its oil sector. The nation's economy, meanwhile, is in recession, with third quarter growth shrinking by 2.3 percent year-on-year.
Nigeria reported to OPEC that its crude oil production in November was near 1.8 million bpd, a 28 percent increase from the previous month. The managed decline from OPEC is aimed at bringing the market back to a reasonable balance between supply and demand. An oversupplied market pushed crude oil prices below $30 per barrel in early 2016.
The Rainbow with agency reports