Hon. Mohammed Kurfi Danlami Repudiates Saudi-Arabian Airline For Abandoning Kano-Bound Passengers For 2 Days, May Press Charges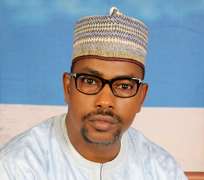 For two consecutive days, Nigerians meant to be air-lifted to the city of Kano on new year day were stuck in Saudi Arabian airport due to purported "nonavailability" of aircraft meant for the international trip.
Condemning the ugly experience, a very vocal and prominent federal lawmaker, Hon. Mohammed Kurfi Danlami, representing Dutsin-ma/Kurfi Federal Constituency of Katsina State on the platform of All Progressives Congress (APC), who unfortunately was among the stranded passengers in a telephone conversation with some senior correspondents, said;
"For no justifiable reasons, this flight was cancelled for two consecutive days. The flight was originally scheduled to take off around 12 pm on Sunday (January 1, 2017). But the airline officials appealed to all passengers on board that the aircraft was not fit for the journey, we have to disembark, despite sitting already in the aircraft.
"Worst of it all, passengers were left unattended to within the airport premises, this is clearly against International Air Transport Association (IATA) rules and standards. However, around 10 pm Sunday night, some of the airline staff members came, but they only attended to passengers who have entry clearance visa to visit Saudi hotels; others, including female and minors among us were left to pass the night under severe, painful and inhuman conditions."
Narrating his ordeal further the federal parliamentarian disclosed that; "Monday morning again, the airline still said there were no airplane at the tarmac to taxi passengers back to Nigeria. We were so unfairly treated. I am not even speaking for myself, but for others who have no one to defend or protect their interests, some were even cash strapped. One painful thing I noticed again was that all the airplanes they paraded to airlift Nigerians were old rickety aircrafts, at least from my physical assessments.
Meanwhile in the same airport we saw brand new aircrafts being used to transport nationals from Germany, United States, Canada etc, to their respective destinations.
Nigerians do not deserve this humiliation and callous treatment. I will make sure appropriate steps are taken to nip this ugly trend in the bud when National Assembly resumes plenary. I wont say anything more than that." The law maker explained on phone.
However, the airline could not be reached to get their own side of the story. Similarly the Embassy of the Custodian of the Two Holy Mosques (Royal Embassy Of Saudi Arabia domiciled at No.6 Orange close Off Thames Street Off Alvan lkoku Way, Ministers' Hill Maitama , Abuja) could also not be reached as at the time of filing this report, their phone line ( +2347098221442 ) was also not reachable.
Checks show that the liquidation of Nigeria Airways Limited in 2003 has left Nigerian air travellers at the mercy of foreign mega carriers operating in the country.
Despite having enjoyed concessions which they do not have elsewhere, even in their home countries, they have adopted tactics to fleece Nigerians. Though different aviation minsters have impressed upon these carriers the need to treat Nigerians with dignity, such directives have been taken with a pinch of salt so to speak.