Uburu nursing school now affiliate of Ebonyi varsity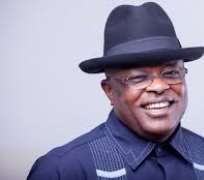 The School of Nursing in Uburu, Ohaozara Local Government Area  has been affiliated with Ebonyi State university.
Governor David Umahi,who   announced this during  the 2016 Uburu  Cultural in  Uburu, also promised that his administration would harness the the Uburu Salt Lake  to serve the nation.
Umahi, who called on indigines  of the community to give his administration  full support,   assured them  that the nursing school would expand and completed  to make it one of the best in the country.
He said, " We are going to complete and expand the School of Nursing in Uburu. We have affiliated the school of Nursing  with the Ebonyi State University. And we are going to develop Uburu salt to serve our country,"
"Any town union that does not support the governor of Ebonyi state,I will dissolve the town union,and nothing will happen. The era of dicotomy in uburu land is over."
Umahi, according a statement on Friday by his spokesman, Emma Anya, gave reason why the Uburu Cultural Day   was held in the Umahi compound.
 "I  and my family invited you hold this event in our premises as a way of celebrating    Christmas with you," he told an enthusiastic crowd comprising well dressed men, women, youths and children.
Umahi warned the people of Uburu against being deceived by anybody and  reiterated that his administration was in full support of Muhammad Buhari's administration because of the special  support its gives the state..
In his goodwill message, the traditional ruler of Uburu autonomous community EZE Lazarus Umahi,extolled the quality leadership of governor UMAHI,especially in the area of infrastructure, human development and youth empowerment. He called on the people of Uburu to rally round the governor for more democracy dividends.
Others who spoke,during the ocasson,include,Ezeogo Godwin Okoro and professor Enyi P.Enyi,all paid special tribute to Umahi,for transforming the state.
The highlight of the occasion was the display of various cultural troops by the fourteen villages that make up Uburu autonomous community.