Where is Vice President Yemi Osinbajo?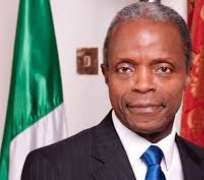 Where is Vice President Yemi Osinbajo? This appears to be the question in the air right now both at the presidential Villa, Abuja and in the country. To many followers of his itineraries and programmes since took the oath of office on May 29, 2015, Osinbajo's engagements have always been a public knowledge.
A professor of law, former lecturer and Senior Advocate of Nigeria, SAN, the Vice President hours in the office are usually characterized by meetings after meetings. For countless times, he has had to return to the office even at nocturnal times even after the day's hectic activities to read and write or at least, keep up with some essentials.
To also inform the public, his media aide, Mr. Laolu Akande would at every turn dish out press releases of his activities whether home or abroad. Osinbajo For the instance, the last known public event of the Vice President was his visit with the Minister of Information, Lai Muhammed to a mechanic and artisan village at Mpape, a suburb of Maitama extension of the Federal Capital Territory, FCT, Abuja on Thursday, December 22, for which Akande issued a press statement.
But for almost a week now, the Vice President has not been seen around at the villa. Curiously, there is no official information of his whereabouts unlike in the case of president Mohammadu Buhari whose office would always keep Nigerians abreast of his movement. As a result, Saturday Vanguard decided to enquired from Akande. But he wouldn't disclose the Vice president's whereabouts. He instead regarded the question as an innuendo.
Below was the brief sms chat: Saturday Vanguard: My bro, good evening, sir.
Compliments of the season. Are you in the country? Is Mr. VP OK? Is he in the country?Can you confirm he's OK and around right now? Akande: What do you mean confirm he is ok? What kind of baseless innuendo is that? Anyway, Merry Christmas bro
Saturday Vanguard: Haha! Innuendo? No sir. Just needed your confirmation on that. It's urgent.
Merry Christmas and Happy new year in advance brother Akade: If you have a question ask it… Saturday Vanguard: Where is our Vice President, sir? Unfortunately, no answer came until 9:05 on Friday when this report was filed.
Credit: Vanguard