Daddy G. O. Adeboye Call On Other Governors To Emulate Ayo Fayose As A Cause For Worry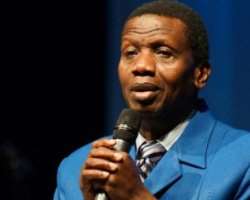 In obeisance to the mood of the season, let me begin this piece by wishing us all, a merry Christmas and the best of the season.
One has tried fruitlessly against his conscience to refrain from commenting on a news item as reported in major news medium on Sunday 25th December 2016, Christmas day, in which the general overseer of the Redeemed Christian Church of God (RCCG) Pastor Enoch Adeboye was quoted as calling on other Nigerian governors to emulate Mr. Ayodele Fayose, but has finally succumbed to nature.
If there an aspect of our national life in which we are definitely in deficit in present day Nigeria, it is the absence of role models who are meant or supposed to engender positive development in the society by their exemplary conduct worthy of emulation by other citizens.
Therefore, if any Nigerian has been identified as worthy of emulation, it behooves on other members of the society to examine the life of such a person in order for us to decipher whether the person making the call truly understands what it means to call on persons to emulate another person or whether he is just making the statement for the fun of it and taking us all for a ride.
Thus, the call by Pastor Enoch Adeboye on other Nigerian governors to emulate governor Ayodele Fayose is worrisome and requires thorough examination in view of what Mr. Fayose represents in our polity except perhaps there is some other attributes which our dear Daddy G. O. has seen with the spiritual eyes but which cannot be seen with the ordinary eyes by those of us the uninitiated, afterall, the other day when a man of God prediction on who will emerge as the winner of the recently conducted American Presidential election fell flat on his face with the outcome of the result, in order to bamboozle us the ordinary folks, he sought solace in spirituality to cover up for his obvious failed guess or prediction which is called prophesy due to their calling.
Therefore, in the light of the above, it becomes expedient on us Nigerians to ask Daddy G.O. Adeboye to clarify in which aspect he wants other Nigerian governors to emulate Mr. Ayodele Fayose because based on available facts, we can analyse the conduct of Mr. Fayose which nobody will want to be associated with, talk less of being asked to emulate.
If we may ask Baba Adeboye, is it in leading thugs to assault the temple of justice or assaulting the constitution by obstructing the law enforcement agents in the discharge of their responsibility that other governors should emulate Mr. Fayose? Or is it in the laundering over 3 billion naira out of the slush funds received from the office of the Ex-NSA for the prosecution of the 2014 Ekiti state gubernatorial election but which has been confiscated by the EFCC? Or is it in being an active participant and beneficiary of electoral coup d'etat in violation of the constitution which has been exposed and derisively called Ekitigate? Or is it in being in arrears of workers salaries for over 7 months while the governor's personal account is overflowing with questionable funds or eating ponmo, corn, drinking palm wine, buying pepper, etc at side joints or personally serving food and riding Okada without crash helmet that Daddy G. O. wants other governors to emulate Mr. Fayose? One can go on and on but for time and space
In Christiandom, adherents are admonished to emulate the life and teachings of Jesus Christ in order for them to inherit the kingdom of God and live peacefully with one another and this is the least of what we expect from our religious leaders in comments and conducts not only to our political leaders but to humanity as a whole.
Thus, we must now call on Daddy G. O. Adeboye, a revered man of God and mentor to millions of Christians and non Christians alike, to please come out and clarify in which area of life he wants other Nigerian governors to emulate governor Ayodele Fayose, otherwise, his comments would be termed an assault on our collective intelligence and quite unfortunate.
Thanks.
Nelson Ekujumi