My Colombian wife understands Igbo – IK Ogbonna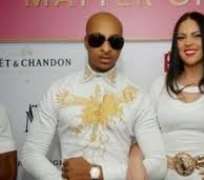 IK Ogbonna used to be one of the most eligible bachelors in Nollywood. A lot of pretty ladies imagined him to be their dream man.  But the handsome actor took everyone by surprise when he proclaimed Colombian national, Sonia Morales as his better half.
In a chat with Sunday Scoop, IK made it clear that he didn't make a conscious effort to marry a foreigner. He said, 'Honestly, I never sat down to think of how I wanted my wife to look like. I only knew that I wanted to marry a pretty woman with a wonderful heart. I wanted a wife who would support my dreams, pray for me, and be understanding as regards my career. I'm happy my wife has these qualities, and even more. I'm not one of those people that mull over where you come from before dating or marrying you. Sometimes, I even forget that my wife is not a Nigerian. She has fallen in love with where I come from, and she is constantly trying to adapt to my culture. I respect my wife a lot because she makes a conscious effort to relate with my people. As at four years ago, she could not even speak English, but she had to learn. She's a sensible lady, and now she can speak many of our Nigerian slangs. I converse with her in Igbo language and even though she may not be a fluent speaker now, she understands whatever I say.'
Speaking on the parlous state of the economy, IK who said it's nothing new opined, 'As far as I'm concerned, Nigeria has always been in recession.  The current year has always been worse than the previous one. It didn't just begin today, so we have to get used to it. We pray that things get better in 2017, but if things do not change, we probably would have it worse than we do presently. However, the good thing is that Nollywood is evolving; we're growing. That is not to say that the recession hasn't affected Nollywood though. Actors no longer earn as much as they used to.'
When Sunday Scoop sought to know if like some of his colleagues, his earnings have reduced, he answered in the contrary. 'If there is anything I will do now, it would be increasing my fees because living costs are no longer the same. For me to keep up the lifestyle I'm used to, I have to earn more money,' he concluded. - Punch.