Yes, I married my sister's friend —Tope Odu, singer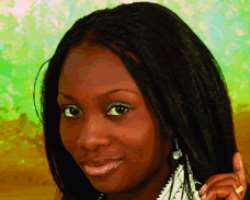 Tope Odu is a gospel artist whose simplicity, uniqueness and humility have brought fans into her life. The dark-complexioned graduate of philosophy at her tender age discovered her talent and was bent on developing it. Today, she is known and occasions are not complete without her performance. In this interview with RACHAEL AGUNTA, she spoke on her career, challenges and other issues.
Growing up
I grew up in a family of seven. I am the third. I grew up in Satellite Town, Ijegun- Egba. My growing up was full of fun. There was a little liberty for us. Though my parents were strict and disciplined but we were not caged. We were a bit okay financially too; so we did not beg for food.
Educational background
I attended Satellite Town Primary and Secondary Schools. After then, I went to University of Lagos where I read Philosophy.
Connection between philosophy and music
Sincerely, I actually wanted to study music but when I gained admission into LASU, unfortunately, there was no degree programme for music at that time. They only had diploma programme while I came in for a degree programme so I went into Faculty of Arts but a year later, music department was created for a degree programme. So, I did most of my electives in music.
Musical career
Music has been what I have been doing for a very long time. Even as a child, my parents are the kind of people who encourage one to participate in church activities. If you are not in the choir, you should be an usher and all that. They believe that one should be playing an active role in the church. I happened to be in the choir from a tender age. Even when I was not ministering with them, I was going for practice just to listen. We had a Sunday school choir and during juvenile harvest, they would bring children together to do things. That was when I discovered myself because among hundreds of children, I would be singled out to take a lead role. That was when I knew that there was something in me and gradually from Sunday school choir, I got into the main church choir and was still taking lead roles. That was where the flare came in and from there it became a passion. When I graduated from the university, I didn't think of getting a job anywhere. All I wanted to do was music because I had the passion.
When did you start singing professionally?
I started singing professionally eight years ago. Even before I would say professionally, I started doing studio jobs in my secondary school. Though my parents tried to cut down the level of my exposure as I was too young. Most people believe that if you are into music or acting that you would get too exposed. At a tender age, I started getting money from music. I was one of my siblings that were not disturbing my parents for money and that was not because the money was not there but because I was making money from my video jobs.
Some choir masters from other churches were also coming to my house to beg my parents to allow me to do special programmes and also minister in their choir. I would be so happy to do that and at the end of the day, they would give me an envelope. I was already getting money and by the time you start getting money from what you are doing, you are already doing it professionally. Eight years ago, I joined a gospel band called Demola Olota band and from there, I went to learn a musical instrument piano to enable me to understand and have the knowledge of what I was practising.
Album
The title of the album is Make it work. It is a nine-track album. Before now in 2008, I had three promos like singles that were on air. I just wanted to know people's accessibility to what I was doing. I was already known by people as someone who sings in churches but for my own music, the acceptance was great.
Choice of music
I do African contemporary. My background is Africa and starting up from a white garment church that is Celestial Church of Christ, exposed me to traditional music but then I didn't restrict myself. I grew up listening to different kinds of music like my father who does not sing but loves music. Whenever my father was playing music, I would go to the radio to hear the lyrics of the songs and all that. Later I started listening to more contemporary singers like Whitney Houston and some jazz. They all inspired me and even at that time I got some exposure going out to other gospel churches and their own kind of music were quite different from Celestial's kind of music. All that made me quite unique because among my peers I could do something very traditional like the chants. I could go contemporary and try to sing like Whitney Houston. Sometimes people tell me that I sing like her.
Circular or gospel
I do gospel inspiration. I believe that every artist is passing a gospel through his lyrics. It is just that the gospel you are passing out maybe positive or negative because it has a message. The gospel means message and that is my idea of gospel but then because of the way it has been classified, I am passing a positive gospel and I am also an inspirational artist.
Challenges
My primary challenge is finance. It is not really easy. Quite a lot of people have expected that I would have released an album a long time ago but it is not really easy. People get to appreciate you. You get promises but never fulfilled. In this part of the world it is not so easy getting a record label. You have the challenge of self-sponsorship where you pay for the studio production, artists and all that. Another big challenge is that when you get yourself ready to get radio and TV stations to play your video. To get a good video, it has to be quite expensive . After spending all that, you even spend more than what you have spent on the video to get it aired. It's crazy. You have to pay the presenters and even after a while they will tell you that your money is running out and you have to still send recharge cards. So, finance is one of the basic challenges I have had.
Why not play secular music that is in more demand?
As I said from the beginning, I started singing at a tender age. I also told you that my parents are Christians. There was a message concerning me. Music is like my calling and I have been on the Christian path. When I am on stage and I see people listening to my music and enjoying themselves, I feel happy. It is not just for the fun of it but it is an avenue for me to win souls. I can't just deviate but I also do live performances. I play at weddings, birthdays, dinner and anniversaries. I do songs to suit the event. I also do love songs as long as the song is not vulgar. I try to be flexible at the same time. In as much as it is a profession and a calling, I intend to make money from it.
Aspiration
I aspire to be what God has ordained me to be. That is just the truth. I quite admire a lot of big artists and I also know that being what they are, is not ideal because even in their private lives, they are facing challenges. My aspiration is that I have been created for a purpose in life so I would like to be who I am created to be.
Role model
My role model is Whitney Houston. From childhood, I loved her music right from my childhood. There is one of her new songs entitled, I Look to You. I used to hear it on radio while driving. I didn't know the singer but when I heard it, I had goose pimples all over me. I just had the urge to quickly learn the song. I have been going to shops looking for it. I really admire the way she sings.
Coping with home front
I would give God all the glory. He gave me a husband who loves and understands what I am doing. Even though our paths are like two opposites. What he does is totally different from what I am doing but he has a caution for what I do and he is working to ensure I attain my goals. That really gives me the courage to always move on. I have people who are supporting me to face my home challenge.
Where did you meet him?
I can't really say exactly where I met him because looking at it, he should have been married to my elder sister. They went to the same schools—primary, secondary and university. They also served in the same place in Akwa Ibom State. I knew him when I was very little as my sister's friend. It wasn't as if there was anything attached to it but they were close. While they were serving, my sister sent him down to our house to drop something and he saw me. Maybe he felt that the small girl of yesterday has grown up. That was where it started from. Then coincidentally I was attending his church on part-time basis because I was still in Celestial Church and he is in the Anglican community. Another big incident that happened was that I used to be invited to their church to minister. One day I was ministering and I was singing my favourite song, My Redeemer Liveth and he told me later that while I was singing he told himself that I was going to be his wife.
Did you snatch your sister's friend?
Actually they were not dating. They were just friends and when they were serving, he was telling my sister that he was going to marry me and my sister would just tell him to go away. Although my sister tried to discourage me, now she is very happy that I did not listen to her because she also feels that I found the right person.
Where is she now?
She is happily married
What is unique about him?
Lekan Alawode my heartthrob is a very gentleman, so understanding and caring. He is so supportive; he does not complain neither des he suppress me. In fact, he is Godfearing. That is the best way to define him.
How many children do you want?
Well, I intend to have two but I don't think my husband is already in agreement with that. I am a lover of children just like my grandmother but unfortunately she had just one. I grew up with that ideology of having kids around me but getting involved now, I have seen what it entails. I really want to give my children the best. Even though I think that things will be better, even if I am very financially comfortable, I want to give my children the best. I think that when you don't have many of them, you will be able to concentrate and train them properly. You can afford to send them abroad for schooling. That is just the idea.