James Ayatse : The Untold Story of An Achiever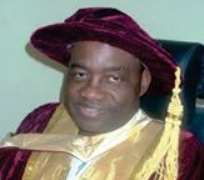 Often times the character content of uncommon achievers aregauged chiefly on selflessness, impact on fellow man, uncommon participation towards building and uplifting the spheres of not just their immediate communities but the world around them; most times leaving it better than was ever imagined. Such rare individuals at several instances were acknowledgedto have expresseddeeper convictions, sole concerns and rare sacrifices for the benefit of mankind than merely seek to promote inner penchants for self induced attainments. Theseuncommon individuals equally view public positions or engagements as opportunities to be best utilized for the ultimate good of humanity than cheaplydrivento personal aggrandizement, selfacquisition, class promotion,exclusivism, and other related pecuniary desires.
This is indeed true of James Ayatse, Professor of Bio- Chemistry, veteran academic and beyond doubta purist, braced in deeperrewarding societal values, forthrightness and in spirit of humanism. A seasoned teacher per excellence, scientist and researcher of no little reckoning; indeedameticulousmanagerof men and resourcescultured in best global competitive standing amidst contemporaries in the act of managing the university system across board. He has over the years served at various times across board, first as a Vice Chancellor of two separate Federal Universities and in both instances brought to bear his professional mettle, endearing legacies andexcellent public conduct to bare on the systemwith attendant results of excellence and remarkable successes, leaving enduring feats far too wide to be matched. With an almost untainted tract record of service and deliverydemonstrated by this rare academic czar over the years, particularly within the education bulwarks of the Nigeriaand the continent.
Ayatse undoubtedlystands out today as a bride toboth the young, and oldand undisputably a model to most aspiring and established managers of institutions of higher learning who daily strive for excellence.
In 2011, the then President GoodluckEbele Jonathan, in realization of Professor JamesAyatse'sconsummatesuccesses in similarly administering a Federal University in Nigeria - The University of Agriculture , Makurdi and in view of other obviouspotent factors,would find in this celebrated academic the required qualities and worthiness to be appointed as the pioneer Vice Chancellor in one of the then newly formed Federal Universities- in this case the Federal University, Dutsin – Ma, Katsina State. With virtuallya near-non existent of structural developments and absence of both academic and non academic personnel to adequately kick off its full programmes and progress, Ayatse would not fret at the apparent glare of challenges but rather courageously muscled out his uncommon leadership prowess and dexterity to approach the inherent challenges typical of a fresh university. He performed exceptionally above board toentrench a facelift on the newly formed Federal University Dutsin-Ma, Katsina State. In a couple of years he began to unveil his managerial kits to effectively chart and later produce an academic citadel that today stands out as the pride of the nation's learning systems whilst competing on the continental rating.
Ayatse as the pioneer Vice Chancellor university hadreleasethe required tools, visions and and arsenals to address the challenges of a virgin institution of this nature. At his breast chest he had desired to first and foremost lay a formidable foundation of a world class university system that would be technologically driven as well as promote and ensure excellence that thrives mainly on the principles of equity, justice, and fairness. At the close of his enviable tenure, many, including critics would come to terms and realistically justify Ayatse's earlier position and vision for the institution as it pointedly became glare that indeed these objectives were not just roundly and squarely met but surpassed their imagination too.
It became quite remarkable also thatout of the nine universities established across the geo- political zones, the University of Dutsin- Ma became the first to graduate students. It rankedas number one among the new universities. In fact the world ranking of universities placed it among 14th best universities in Nigeria. Within a relative short span of time, the university expanded its tentacles to cover wider and demanding fields in Social Sciences, Sciences, Arts and Humanities, Education and Agriculture. It equally arrived at the threshold to breaking newer grounds when it introduced Engineering and Technology programmes. While this profound admnistrator lasted at the helm of affairs, virtually all programmes received NUC accreditation. The Law Faculty, Environmental Sciences and Medicine were in the offing ready to fully take off. A feat he had earlier attained as Vice Chancellor , University of Agriculture from 2002-2007.
From the Professorial cadre to Senior lecturers, down to assistant lectures,the academic cream under Ayatse strived to attract the best manpowerpossible to superintendover its programmes of study even though it was apparently difficult to attract employees especially Senior- cadre employees given seeming dearth in staff housing, university staff school, and other related factors.
In the Vice Chancellor's recruitment agenda, he practically kept close to his words by imbibing his cherished principles of fairness, justice and equity. 56 % of staff recruited were from the North- West geopolitical zone , with Katsina the host State accounting for 45.5%. In achieving this, he was never unmindful of the comparative advantage his home state would gain from the exercise particularly his kinsmen- the TIVs As such about 12% of such successful employees came from Benue state. It can be argued that there is nothing wrong in identifying with ones kinsmen; his closer ties and roots. It simply means that a manidentifies first with his birth place as a point of concern and love for his people. Ayatse held this thoughts closelyand ensured that a good number of well qualified Benue –indigent personnel had their fair share in the recruitment, despite other overbearing interests, especially the Dutsin – Ma Community.
Inspite of his well intended, genuinely induced, and concerted efforts made by this forthright Professor and administratorto ensure a fair and open process, several petitions bothering on bias in the recruitment process were levelled against him, but with the needed courage , bravely, confidence and the openness of the entire recruitment process, he never deterred. He was invited by the National Assembly to answer on allegations of recruitment biases in favor of his TIV kinsmenand on confrontingthe Senate Committeewith the needed statistics adopted during the recruitment exercise, Ayatse was completely exonerated as the committee became satisfied and gave the exercise aclean bill of health, alluding that the process was not just transparent, competitive and open, but equally met best practices with a high consideration for federal character spread.
Many of Ayatse's critics, some disgruntled lawyers from Katsina inclusive who had earlier taken the latter to court would later bow to reason and agree that indeed the Vice Chancellor meant well for the university and the overallKatsina community in all intent and purposes.
Professor James Ayatse who first appeared on the political scene in 2007 to fly his aspiration as Senator representing Benue – North East Senatorial District would virtually receive aggressive backing, wider acceptability and a roared support base from the people. The reason for this was not farfetched. Ayatse had shown in the past, and at every capacity of public service engagement that he was equal and above his given responsibilities which were mainly driven by genuine service and good for mankind. Many Benue indigenes would not forget in a hurry his treasured and benignacts of giving the proverbial net for people to fish than merely offering fish to them.As the Vice Chancellor of the University of Agriculture, Makurdi, he left no one in doubt as to his undaunted resolve to bring about overall turnaround of the university. The university had the better lot for his profound policies as infrastructure and academic excellence became household features and boosted significantly while the institution kept advancing on its academic and managerial expansion drive, whilst creating massive employment for many Benue indigenes particularly the TIV people who handled most of the academic, managerial, infrastructural expansion policy of the university.
To many, it was little wonder that Ayatse would be find worthy of appointment again at the new Federal University in Katsina-State. The appointment received wide accolades from all and sundry particularly the academiawho saw to it that it was indeed merited and well deserved. Its significance and essence was marked when his tenure successfully ended in February, 2016, after 5 years in the saddle.
In his usual spirit of humanism and altruism , Ayatse had over the years fought for and ensured that the people, particularly his kinsmen stand supreme in his selfless quest to liberate, empower and make the people take up viable places in the society for their survival and sustenance. It is equally refreshing to note that in all his public service undertaking Prof James Ayatse had kept an impeccable tract record with no element of corruption beneath. He typically fights for the people, stands with them with a sole zeal to make them take up befitting positions in both public and private undertakings thus earning him the appellation as the grandeur to human capital development and builder for societal growth.
AKOSU EMMANUEL LUBEM
Public Affairs Analyst
Wrote from Adikpo, Kwande, Benue State
[email protected] . Text: 07038578549
twitter: @lubem-akosu