Governor Nyesom Wike Leaked Audio Bribery And Death Threat Conversation And The Hypocrisy Of Man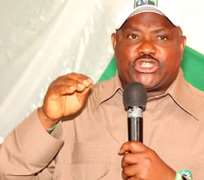 Few days ago, one was amused but not shocked by the Saharareporters leaked audio tape of Governor Nyesom Wike bribe and death threat conversations with INEC personnel deployed to conduct the Rivers state legislative rerun elections which held on the 10th of December, 2016.
One's amusement stems from the fact that this was the same Governor Wike who has been holding press conferences and making accusations, issuing threats, blackmail and incitement against INEC, the Police, DSS, Army, etc alledging attempts by these bodies to manipulate the elections.
This was the same Governor Wike who was running from pillar to post inciting breach of public peace by his utterances and conduct in denigration of the exalted office of the governor of Rivers state which he occupies.
This exposure of alledged compromise and death threats against INEC officials in the discharge of their constitutional responsibility by a custodian of the peoples mandate who is supposed to epitomize honour, integrity and character is shameful, reprehensible, condemnable and should be a lesson to all about the hypocrisy of man.
In the days ahead, we wait for more developments to unfold, but its indisputable that just like Fayose in Ekitigate, we now have Wike in Riversgate and it is imperative on Nigerians to demand an investigation into this matter in order to dispense justice to the politically traumatized electorate and deter criminal minds called politicians, who are taking notes to do same in the nearest future.