Why Nigeria's Sports Ministry Deserves A Better Head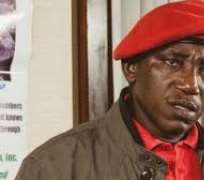 Without fear of contradiction, leadership with sheer competence is purely one of the main challenges of development and growth in Nigeria. The matter of leadership is not for want of qualified, patriotic and inspiring individuals, rather the way and manner in which some of those in leadership emerge.
Since the appointment of Minister of Youth and Sports Development, Mr. Solomon Dalung by President Muhammadu Buhari in October last 2015, according to The Whistler, Dalung embodies the caricature of governance with his pseudo-revolutionary posture.
It is a tragedy that President Buhari could settle for a man that lacks the empathy and temperament to deal with youth and sports issues knowing fully well how useful and important these impressionable demography are, especially in fostering unity, friendship and engaging the latent energies of Nigeria's tomorrow.
Dalung began to show his lack of grasp of the ministry he oversees when he could not galvanise the various sporting bodies to properly prepare for the Rio Olympics. An instance is the failure of the Nigeria Football Federation (NFF) to qualify the country in all major footballing tournaments except the Olympics.
It is also on record that some Nigerians on the social media have attacked minister of Sports and Youth Development, Solomon Dalung for his unguided and derogatory statements after he described Nigeria's participation in the 2018 World Cup qualifiers as a 'waste of money.'
The Minister had said Nigeria does not need to participate in the World Cup because 'we can't win.' These comments didnt go well with some football loving Nigerians on the social media who abruptly called on President Muhammadu Buhari to sack the minister over the comment. While some vented their anger towards President Buhari for Dalung's appointment, others are of the opinion that the minister's comment has officially confirmed him as a total stranger to sports.
It is also shameful, totally reprehensible and unfortunate under Dalung's watch that Nigeria's senior women's national team would be seen protesting against the non-payment of their entitlements after winning the 2016 Africa Women's Cup of Nations in Cameroon. Falcons have refused to leave the Agura Hotel, Abuja, where they were lodged since returning from the competition. The players are owed bonuses and allowances from the qualifiers for the 2016 AWCON up till their final match against Cameroon last Saturday, which they won 1-0 to lift the trophy for the eighth time. This is really sad, NFF owes each player up to $25,000 and what Nigerians keep hearing is that the federation is yet to raise the funds to settle the debt. This one faux pas too many.
However, there is no dearth of better replacement for the office Dalung is currently occupying. Again part of what January 2017 partial cabinet reshuffle should address is the replacement of Dalung. The office of the President of Nigeria cannot continue to receive barrage of insults from sports lovers in the instance of Solomon Dalung. The time for that paradigm shift is now. One may however ask, who could possibly fit in to these shoes? Is no other person than Otunba Gbenga Otolorin Elegbeleye.
Who Really is Gbenga Elegbeleye?
Hon. Gbenga Otolorin Elegbeleye, was born in Ikare, Akoko North East Local Government Area of Ondo State. His educational background is made up as A.U.D Primary School, Ikare, St. Patrick's' Secondary School, Iwaro-Oka, University of Ife (Now Obafemi Awolowo University) Ile Ife and Ondo State University, Ado-Ekiti.
He obtained the following qualifications in his educational sojourn:
• Primary School Leaving Certificate
• West African School Certificate
• B.A. (Ife), Ile-Ife
• MPA (UNAD), Ado-Ekiti.
As a result of his exemplary leadership qualities, in the Nigeria Youth Service Scheme, Hon. Gbenga Elegbeleye was made the Administrative Officer of the Federal Road Safety Commission, Zone RS3 Kaduna, between 1988 and 1989, from where he ventured into private business.
Further motivated by the desire to serve in higher capacity, he resigned his appointment as Chairman Ondo Waste Management Board in 2006, to contest elections into the Federal House of Representatives. Between June 2007 and June 2011, Hon. Elegbeleye was a member of the Federal House of Representatives representing Akoko North East/North West Federal Constituency of Ondo State, where he served as Deputy Chairman, House Committee on Sports; Member House Committees on Defence, Appropriation, Works, Environment, Rural Development, Inter-parliamentary Affairs and Solid Minerals.
Hon. Elegbeleye was a member of the Ondo State Football Association between 1998 and 2000, Chairman Ondo State Table Tennis Association (2004-2007), Vice Chairman Ondo State Sports Development Committee (2005-2009) and Chairman Rising Stars Football Club, Akure from 2004-2007, Proprietor, Ikare United Football Club, Member, NFA Fair-Play Committee, from 2004-2007, President Youths Sports Federation of Nigeria, Ondo State Chapter from 2003-2009. He also served as a member of the Ministerial Committee on the Reform of Football Administration in Nigeria between August and November 2011 and Member, Board of Directors, Abuja Investment Company between 2011 and 2013.
On May 15th 2013, the then President and Commander in Chief of the Armed Forces of the Federal Republic of Nigeria, His Excellency Dr. Goodluck Ebele Jonathan, found his rich credentials in Sports Administration irresistible and appointed him, the Director General of the National Sports Commission. President Jonathan made the announcement during the Federal Executive Council meeting of May 15th, 2013
During his stewardship as the Director General of the National Sports Commission, the Commission experienced a change in fortune as Nigerian athletes, sportsmen and women deservedly won international laurels across the globe.
On Friday 8th November 2013 at the Mohammad Bin Zayed Stadium in Abu Dhabi, United Arab Emirates, the Golden Eaglets of Nigeria defeated Mexico 3-0 to win the FIFA U- 17 World Cup a record fourth time having won it in 1985, 1993 and 2007 to emerge as the most successful country in the competition up to date.
This was also followed by another laudable achievement in the 2013 Commonwealth weightlifting game tagged Malaysia 2013 where the Nigerian female lifters won the women's category of the competition with 8 golds, 3 silvers and 3 bronze medals in the competition held in Malaysia in November 2013. This was also followed up with a 3rd placement of the Home based Super Eagles in the African Nations Championship (CHAN) held in South Africa. Nigeria had never qualified for the competition, but the Eagles not only qualified but went as far as winning the bronze medal of the competition after beating hard-fighting Zimbabwe 1-0 in the 3rd place match decided at the Cape Town Stadium, Cape Town on Saturday February 1st, 2014.
He was Head of Delegation, Nigeria U-17 African Youth Games in Botswana, tagged "Gaborone 2014" where Nigeria gathered a massive 41 medals the best outing so far against the record of 10 medals, in the Games after winning 19 gold, 10 silver and 12 bronze medals.
Still under the leadership and stewardship of Hon. Gbenga Elegbeleye, also as Head of Delegation, Team Nigeria also finished strong in the Glasgow, Commonwealth Games in Scotland. It was Nigeria's best outing in the history of the Commonwealth , winning 11 golds, 11 silvers and 14 Bronze medals in the 20th edition of the Games held between July 23 and August 3rd, 2014. Team Nigeria also emerged the best team at the 2014 Marrakech Africa Athletics Championships held in Marrakech, Morocco in August, 2014. The Super Falcons beat all African countries to emerge Champions of Africa Women's Championship (AWC) held in Namibia in October 2014. It is on record that Hon Elegbeleye assisted over six hundred (600) indigenes of Ondo State for various trips to Europe, America, Asia, South Africa, etc,
Hon. Gbenga Elegbeleye was equally appointed as a Member of the CAF Disciplinary Board. He is a member of IBB Golf Club, and a recipient of several awards and honours. These includes, Fellow of the Nigeria institute of Local Govt and Public Administration, Fellow, Chattered Institute of Public Administration, Fellow African Business School, Fellow, Certified Institute of Sales Management, Patron, SWAN, FCT, Patron SWAN, Ondo state, Patron NUJ, Ondo state, Gold Personality Award by Skye Sports, African film Academy Award for sports Dev. National Youth Council Award for National Dev. City People Award for Excellence in Politics. African Leadership Award for Sports Development.
Apart from Otunba Gbenga Elegbeleye, Bolaji Abdullahi is another distinguished sports administrator who proved his mettle meritoriously. Under his watch as Minister of Youth Development Nigeria achieved several successes. Mallam Abdullahi, an indigene of Kwara State, served for two years, 11 months and 18 days. Records show that there was no record of unpaid salaries and allowances to Nigerian athletes or any sports ambassadors during his tenure, this is quite commendable.
His Achievements
During his tenure, Nigeria won several laurels in sports. Some of the achievements include:
The London 2012 Paralympics Games: Nigeria put up a great performance clinching six gold, five silver and one bronze medals.
Nigeria emerged third at the 2012 Senior African Wrestling Championship in Morocco and was the overall winner at the 2012 Senior Africa Weightlifting Championships in Kenya.
Team Nigeria male basketball team, D'Tigers, qualified to represent Nigeria at the London 2012 Olympics.
In 2012, Nigeria won the African Cup of Nations after 19 years of trophy drought for the male soccer team, the Super Eagles.
Nigeria won the 2013 FIFA U-17 World Cup, which took place in Dubai.
Nigeria's home-based Super Eagles qualified for the African Nations Championship, CHAN, for the first time and won the bronze medal at the event. The Nigerian cricket team also for the first time ever, made it to the highest cricket league in Africa – League Five.
At the 2013 World Championships in Moscow, Nigeria's Blessing Okagbare won the silver medal in the long jump. Her jump of 6.99 meters put her in the second place with 2cm behind Brittney Reese (United States).
We cannot shy away from the fact that Sports is a key tool for development, peace, and unity in multi-ethnic nation like Nigeria. Obviously, lack of well defined sports development policy will impede the country's national integration; and sports have the potentials to unite Nigerians if our sports festivals and other sporting activities are revived.
Sports development in Nigeria will not only expand the economy by creating employment and generating revenue for Government but also present a platform to strongly connect Nigerians during such national and international sports competitions. The excitement sports events bring to Nigerians cut across primordial sentiments as individuals tend to come together to identify with and celebrate sporting achievements, irrespective of tribe, age, class, or other social cleavages.
If sports be the food of national integration,' then Governments at all levels should vigorously pursue sports development policies by building stadia and maintaining them, investing in human capital development, rewards hard-work and achievements of those who have done us proud at various levels and creating numerous talent development platforms to nurture sportsmen and women to sporting prowess; that way, sports will develop and Nigerians will be united in celebrating our proud achievements in sports just as the nation state will prosper.
Paul peters wrote via [email protected]
Disclaimer:

"The views/contents expressed in this article are the sole responsibility of

Paul Peters

and do not necessarily reflect those of The Nigerian Voice. The Nigerian Voice will not be responsible or liable for any inaccurate or incorrect statements contained in this article."