Delta Airline celebrates 10 years to Africa
4.2 million people have flown to North America with the U.S. airline over the past decade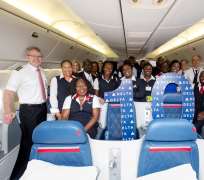 ACCRA, December12, 2016 – Delta Air Lines [NYSE: DAL] is celebrating a decade of flying to Africa. Over the past 10 years, the airline has welcomed 4.2 million customers on board its services to the United States – almost three times the population of Accra.
Delta's first flight landed in Accra on December 12, a week after the inaugural services to Dakar, Senegal, andJohannesburg, South Africa. An additional service to Lagos, Nigeria, was added one year later. Since then, Deltahas become the leading airline between the United States and Africa as well as the only one to link North America with Ghana and Senegal nonstop.
"Delta has invested billions of dollars to enhance the service we offer our customers in Africa and across the globe since our inaugural flights here," said Jimmy Eichelgruen, Delta's Sales Director for Africa, India and the Middle East. "We have added fully flat-bed seats, on-demand entertainment and Wi-Fi to every flight across the Atlantic. Travellers will also now find regional cuisine and dedicated airport facilities but one thing that hasn't changed is our commitment to offering the same levels of customer service that have made us the favourite U.S. airline serving this continent."
Some of Delta's other notable achievements in Africa over the past 10 years include:
22,000 flights operated between Africa and the United States
95% of North America being accessible via one-stop connections in Atlanta and New York-JFK
9 million meals served on board
Partnerships with leading community organisations, such as Breast Care International in Ghana and the Amy Biehl Foundation in South Africa
Being the only carrier to offer Wi-Fi on every flight
Today, Delta flies nonstop to four points in Africa; Accra, Ghana, Dakar, Senegal, Johannesburg, South Africa and Lagos, Nigeria. It also has reservations/ticketing and sales offices in a number of additional markets, including Kenya and Uganda.
About Delta:
Delta Air Lines serves nearly 180 million customers each year. In 2016, Delta was named to Fortune's top 50 Most Admired Companies in addition to being named the most admired airline for the fifth time in six years. Additionally, Delta has ranked No.1 in the Business Travel News Annual Airline survey for an unprecedented five consecutive years.
With an industry-leading global network, Delta and the Delta Connection carriers offer service to 312 destinations in 54 countries on six continents. Headquartered in Atlanta, Delta employs more than 80,000 employees worldwide and operates a mainline fleet of more than 800 aircraft.
The airline is a founding member of the SkyTeam global alliance and participates in the industry's leading transatlantic joint venture with Air France-KLM and Alitalia as well as a joint venture with Virgin Atlantic .
Including its worldwide alliance partners, Delta offers customers more than 15,000 daily flights, with key hubs and markets including Amsterdam, Atlanta, Boston, Detroit, Los Angeles, Minneapolis/St. Paul , New York-JFK and LaGuardia , London-Heathrow, Paris-Charles de Gaulle , Salt Lake City , Seattle and Tokyo-Narita . Delta has invested billions of dollars in airport facilities, global products and services, and technology to enhance the customer experience in the air and on the ground. Additional information is available on the Delta News Hub , as well as delta.com , Twitter @DeltaNewsHub , Google.com/+Delta , and Facebook.com/delta .