Ngige faults Ohaneze, says Buhari is not nudging aside Ndigbo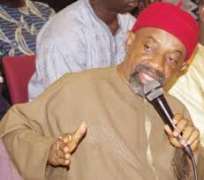 Minister of Labour, Dr Chris Ngige, has dismissed the statement credited to the National Secretary of Ohanaeze Ndigbo, Dr Joe Nwaorgu, accusing President Buhari of allegedly promoting politics of exclusionism against Ndigbo.
Ngige, a former governor of Anambra State, also faulted the claims that the inability of President Muhammadu Buhari to pull the country out of the current recession was due to lack of an economic team, saying that those orchestrating such claims were job seekers who failed in their bid to be appointed ministers.
The minister spoke in an interview with reporters at the annual convention and 2016 graduation ceremony of Skill Acquisition Students of Bina Foundation, founded by Chris Atuegwu and his wife, Lady Ifeoma, weekend. He said that contrary to the statement purportedly made by Ohanaeze that Ndigbo were being excluded, Buhari's antecedents showed that "he loves Ndigbo," warning Igbo to stop alienating themselves politically, but instead, embrace other parts of the country with open hands. His words: "I am sure the statement did not emanate from Ohanaeze.
President Buhari the Chairman & the Executive Secretary of the South East Council of Traditional Rulers, at the State House
It is the personal opinion of the Secretary General, Dr Joe Nwaorgu, who is my personal friend. Ohanaeze has means of expressing its views through press statements, which are usually signed by the President General and the Secretary. Such statements must also emanate from Imeobi (inner caucus). "When you go to Buhari's antecedents, you see his love for Igbo. His Brigade Commander was an Igboman.
After the war, he did not kill prisoners of war. He brought back his classmates, J.C. Ojukwu and the other man from Ojoto in Anambra State. He is a good man. He keeps to himself and does not socialise but, he is disciplined in office." Ngige further noted that since there was an understanding that the presidency would go round, Ndigbo would get their turn by embracing other parts of the country with open hands and not by talking about politics of alienation.
Buhari's economic team competent Ngige said the Buhari's economic team was composed of people of proven integrity, adding that the pains Nigerians were experiencing were as a result of the depletion of the country's foreign reserve by Goodluck Jonathan's administration. He defended the proposed plan by the Federal Government to borrow $30 billion from money lenders abroad, saying unnatural situations demand unnatural solutions.
Commenting further on the calls for a new economic team to steer the country out of recession, Ngige stressed that such calls were propagated by job seekers and re-echoed by their friends in the media. According to him, Nigeria entered recession a long time before the Buhari administration came into office even as nobody noticed it because of the huge foreign reserves accumulated by former President Olusegun Obasanjo, which has now shrunk to about $21billion as a result of the crash in oil prices.
Vanguard