Nigerian minister Amina Mohammed to be named UN Deputy Secretary General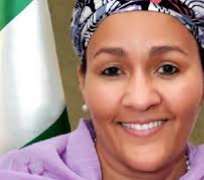 Nigeria's Minister of Environment, Amina Mohammed, will soon be named  as  Deputy Secretary General of the United Nations.
According to Naij.com, Ms. Mohammed who was was appointed minister by President Muhammadu Buhari in November last year,
is expected to confirm her new UN position.
She is expected to be the deputy to Antonio Guterres, who will assume office as Secretary General of the world body on January 1, 2017.
Ms. Mohammed had formerly served as an adviser to the outgoing UN Secretary General Ban Ki-Moon.