Supreme Court affirms election of Ben Ayade as governor of Cross River State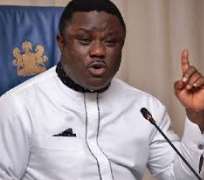 The Supreme Court has upheld the election of Governor Ben Ayade of Cross Rivers State.
In a unanimous judgement on Friday, a five-member panel of justices dismissed the application as lacking in merit.
The action against Ayade's election was brought by his fellow People's Democratic Party (PDP) aspirant, Joe Agi.
Agi had asked the apex court to nullify the election of Mr. Ayade for alleged false declaration of age.
The challenger asked the court to declare that Mr. Ayade's emergence as the PDP flagbearer was null and void.
Mr. Agi, a Senior Advocate of Nigeria who contested the 2015 PDP governorship primary against Mr. Ayade, had challenged the eligibility of the governor to contest the primary.