Military to re-open Nigeria-Niger border roads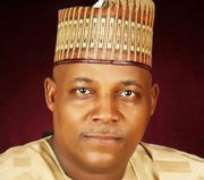 Governor Kashim Shettima of Borno state; has said that the
Nigeria-Niger border roads will be re-opened by the military to
reactivate and facilitate farming, trade, and evacuation of Internally
Displaced Persons (IDPs) from Diffa province to liberated communities.
Over 85, 000 IDPs from Borno state; are taking refuge at Diffa
resettlement camps, established by the Nigerien government in 2014.
Shettima disclosed this while receiving the Nigerien
Governor of Diffa Province, Alhaji Mohammoudu Lawaly Dan Dano at the Government House, Maiduguri.
"We have a lot of commonalities of history, culture, folks, religion
and ethnicity with the people of Niger. It was the Colonial Masters of Britain and France that divided us with these artificial boundaries," said Shettima.
He said the IDPs taking refuge in Diffa Province of Niger, are
adequately catered for by the Nigerien government, without being
discriminated or abandoned, as Niger and north part of Nigeria share the same historical and cultural backgrounds.
The governor said that the re-opening of the border roads with Niger, will also facilitate the repatriation of 85, 000 IDPs from Niger Republic to Borno state.
"I will meet the Theatre Commander of Operation Lafiya Dole, Maj-Gen. Lucky Irabor next week; and discuss with him the possibility of
reopening this closed border roads that lead to Niger Republic.
Shettima assured the visiting governor of Diffa that the re-opening of the road, could activate and facilitate trade, farming and tourism, which had been affected by Boko Haram insurgency for more than five years now.
Responding, the Governor of Diffa assured that all the displaced
persons in camps, are being taken care of adequately including the provision of health care delivery services.
He said that all the female IDPs that gave birth in camps,
had been issued with birth certificates.