Building Multiple Deep Seaports In Nigeria Wrong—Adamu Biu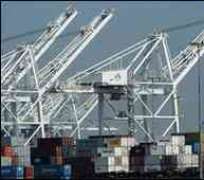 The immediate past Executive Secretary/Chief Executive Officer of the Nigerian Shippers' Council (NSC), Captain Adamu Biu has said that building multiple deep seaports across the country is not logical.
Speaking to the Nigerian Tribune exclusively on the sideline of the Stakeholders Night of Appreciation put together by the NSC recently in Lagos, the astute master mariner said it was the same strategy of doing too many things at the same time that killed the Nigerian National Shipping Line (NNSL).
According to him, "One of the reasons the NNSL went down was because the Federal Government of that time bought 19 ships in one day. How can you buy 19 ships in one day? No businessman does that, because they will all age at the same time.
"Because the 19 ships were all bought same day, the cost of maintaining them skyrocketed, and government could not manage them anymore.
"If they had been spaced, maybe government buys three at a time, then buys another three after four or five years, they would not have aged at the same time. That is exactly the same kind of mistakes we are about to repeat with the multiple deep seaports that are being built across the country.
"Government should establish one deep seaport first, run it and wait to see what comes up in the industry. The maritime industry is dynamic, it is not static. The kind of ships we are operating now are not the kind of vessels we had 10 or 15 years ago.
"If anybody is building a port now, obviously they are building it for vessels that are operating now and maybe five years ahead. What happens to newer vessels that will be built in 10 or 15 years time? Will the deep seaports being built now accommodate them?
"Type of vessels change with time; requirements of vessels change with time. If we end up building three or more deep seaports simultaneously, what happens if newer vessel come onboard?
"That was the fate that befell the Tin-Can and Apapa ports. That is why these ports are becoming gradually obsolete. These ports cannot accommodate modern ships anymore. So why do we want to build multiple deep seaports at the same time when they will become irrelevant at the same time in the next 15 or 20 years?
"If government builds one deep seaport now, it is very certain it will last for the next 10 or 15 years. So when newer vessels come on board afterwards, newer deep seaports can now be built to accommodate them. It's so simple. That is how it's done anywhere else. The problem here is that we don't have the privilege of focus. We cannot forecast what will happen in the industry in the next 15 to 20 years because we don't have ships.
"Tin-Can and Calabar port does not have rail tracks in them. That is why I advocate that we start with one deep seaport first, learn from its operation if there are any shortcomings before talking about building another deep seaport.
"I am always amazed when I hear people talking about building deep seaports here and there. Where were this people when the fortunes of Warri, Calabar and Sapele ports nosedived? Were they in school? Are we going to repeat the same mistakes? Don't we learn from our past?"