Nigeria expects oil production to rise up to 2.1m bpd by January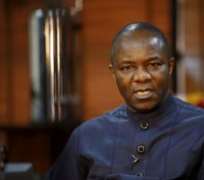 Minister of State for Petroleum  Ibe Kachikwu has expressed the hope that Nigeria's oil production might be boosted to to 2.1 million barrels per day by next month.
Kachikwu also said he was expecting more production cuts from non-OPEC producers at Saturday's meeting of oil producers in Vienna, and that he hoped to see oil prices at $60 a barrel by December 2017.
He was speaking on Wednesday at a Bloomberg Markets summit in Abu Dhabi.
At the moment, Nigeria's output is at 1.9 million bpd with all three of its main fields online.
This comes just days after OPEC and Russia agreed an historic deal to cut output in 2017, triggering a more than 10 percent rise in prices, in a bid to end a fuel supply overhang.
OPEC, which accounts for a third of global oil production, made a preliminary agreement in Algiers in September to cap output in an effort to prop up oil prices, which have halved since mid-2014.
OPEC said it would exempt Iran, Libya and Nigeria from cuts as their output has been crimped by unrest and sanctions.
As part of the deal, OPEC said major oil producers not part of the group had agreed to cut a further 600,000 bpd of production. These countries and OPEC are due to meet this weekend to finalize their portion.
OPEC's oil output set another record high in November, rising to 34.19 million barrels per day (bpd) from 33.82 million bpd in October.
And Russia reported November average daily oil production at 11.21 million bpd, its highest in nearly 30 years. That means OPEC and Russia alone produced enough to cover almost half of global oil demand, which is just above 95 million bpd.
Nigeria is in its deepest recession in 25 years, worsened by falling crude output as militants attack pipelines in the Niger Delta, the heart of its production, and global prices remain low, choking off dollars needed to fund imports.
The dollar shortage has caused many companies to halt operations and lay off workers, compounding an economic crisis.
.With online reports