Police arrest three men who kidnapped, killed Dangote manager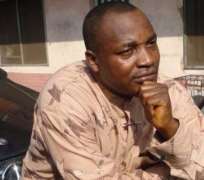 A special team of police detectives have arrested the killers of a  a senior strategist with Dangote Industries Limited, Istifanus Bello Gurama.
The suspects Abubakar Gide, 24 Babuga Adamu, 25 and Abdulahi Saliu, 22, were arrested at Ijebu Igbo forest, Epe forest in Lagos and Ipo forest in Kwara state, respectively, where they had gone into hiding after their evil act..
The detectives from Inspector General of Police' (IGP) Intelligence Response Team led by Abba Kyari, an Assistant Commissioner of Police (ACP),  also recovered three AK47 rifles and 167 live ammunition which the suspects buried inside the forest.
According to reports,  the kidnappers were the ones who led the police where the deceased was dumped and also disclosed their armoury.
 Gurama was taken hostage about three weeks ago at Ijebu Igbo in Ogun State, after he went to secure the release of four expatriates and a Nigerian working with the industry.
It was gathered that the deceased, who usually negotiated with the kidnappers and took ransom to them for the release of their workers, was detained by the gunmen, who said they were actually after him.
It was learnt that the firm raised money for his release which the kidnappers collected after which they killed and dumped him in a pit at Ijebu Igbo.
His death, it was gathered, might not be unconnected to an alleged uncovering of the identities of the kidnappers said to be Fulani men.
It was learnt that the kidnappers accused Gurama of knowing too much and also giving them away, while another source said he could have been killed because the kidnappers wanted more money.
Confirming the arrest, police spokesman, Don Awunah, a Deputy Commissioner of Police (DCP) said the suspects were being interrogated and urged Nigerians to exercise caution in negotiating with and delivering ransom to kidnappers, adding that the police should always be carried along.
Awunah said: "It was when the IGP Ibrahim Idris learnt of the incident that he directed the IRT to fish out the kidnappers. One of them was arrested at Ijebu Igbo forest, the other one at Epe forest in Lagos and the third one at Ipo forest in Kwara State. The crime was committed at Ijebu Igbo in Ogun State. The suspects are being interrogated and would be prosecuted at the conclusion of investigation."