Presidency defends Emefiele over criticisms on faltering economy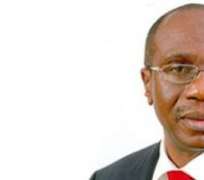 The Presidency has expressed confidence in Godwin Emefiele as the governor of the Central Bank of Nigeria. The governor has been under attacks from many fronts, with many Nigerians ascribing the troubles of the Nigerian currency the naira on poor monetary policies. Not a few has called for his immediate sack. But the presidency on Sunday in Abuja expressed confidence on the configuration of Nigeria's economic team.
According to a report by the news agency of Nigeria , the Senior Special Assistant to the Vice President on Media and Publicity, Mr Laolu Akande made the disclosure in a bid to debunk the notion that Nigeria's economic troubles is as a result of poor handling of the economy by Buhari's economic team.
 Akande blamed the dwindling economy on the activities of militants in the Niger Delta bombing and destroying oil installations in the region which have resulted in decline in crude oil production.
The revelation by the media aide also have cleared the air on the entire economic team of Buhari, giving them a vote of confidence and urging them on to continue running Nigeria's economy.
Nigeria has been thrown into economic recession since July with the Naira losing its value against major world currencies after the CBN floated the local currency. This have also lead to inflation and high cost of goods in Nigeria with many losing jobs and businesses.