Ex-AGF, EFCC boss dismiss Ribadu over tenure, Halliburton case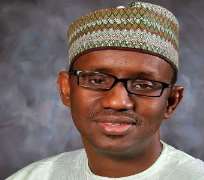 The former Chairman of the Economic and Financial Crimes Commission (EFCC), Mallam Nuhu Ribadu, has been criticised for recently making allusion to the tenure of one of his successors Mrs. Farida Waziri and former Attorney General of the Federation (AGF), Chief Mike Aondoakaa.
According to the former Attorney General, Ribadu lied by claiming that he was a member of the Presidential Investigation Committee, (PIC) on Halliburton.
In a statement by his Media Assistant Aondongusha Apine in Makurdi, the former minister described the former chairman of EFCC's outburst against him as a blackmail and self seeking.
He said, 'First, Ribadu lied before his audience because those who were part of Presidential Investigation Committee are Sir Mike Okiro, Office of National Security Adviser, representative of EFCC and Director Public Prosecution of the Federation served as Secretary and as at that time Ribadu was in NIPSS, Kuru so his claim of being part of the team that investigated Halliburton is a blatant lie.'
The former Justice Minister further stated that since Ribadu was sacked from EFCC, he sees nothing good with the anti-graft agency and is behaving like he is the only one who had solution on how best EFCC can be administered.
Aondoakaa said Okiro led the Presidential Investigation Committee submitted their report on Halliburton to President Musa Yar' Adua, who later died leading to his removal as Minister of Justice before action could be taken.
' To the best of my knowledge, I think Ribadu is looking for favour from the federal government and the only way to get attention is to attack Mike Aondoakaa and some few Nigerians and tagged them corrupt.'
He advised Ribadu to tell Nigerians what he wants since he believes he is the only person with required skills to lead the EFCC in the fight against corruption. He advised Ribadu to stop further attacks on his person based on personal vendetta saying corruption was fought within the ambit of the law during Yar' Adua administration.
According to him,'Throughout my period as Justice Minister I never entered nolle prosequi on any corruption case before the court of law both at home and abroad.'
Ribdau had during a lecture series in Abuja said Aondoakaa as a former justice minister frustrated the war against corruption alongside other senior lawyers.
On her part, a former Chairman of the EFCC, Mrs Farida Waziri warned her predecessor, against rubbishing her tenure in the anti-graft agency.
She said despite Ribadu's contempt of her tenure, she was able to secure 450 convictions and filed 75 high profile cases in court.
She asked Ribadu to stop using her name 'anytime he needs public attention or sympathy.'
Waziri, in a statement by her Personal Assistant, Ms Omolara Oluremi, pleaded with Ribadu to stop being a weeping man.
She accused him of being always 'obsessed with dropping' her name into his script.
The statement said: 'My attention has been drawn to a reckless and irresponsible statement credited to Nuhu Ribadu at a function on Wednesday in Abuja, where he, as has been his rhetoric since 2008 when I succeeded him as the EFCC Chairman, attempted to malign me by accusing me of being part of his imaginary enemies who frustrated the nation's anti-graft war.
'My first inclination was to ignore Nuhu since I know he is always obsessed with dropping my name into his script anytime he needs public pity or political relevance but on a second thought I felt I should advise him to leave me out of his frustrations and face life. There should be a life after EFCC.'
Waziri said after leaving office as the EFCC chairman, Ribadu ought to move on with life instead of revisiting his tenure.
The statement added: 'If after eight years of being removed as EFCC Chairman, he is yet to move on with life, even after two successive Chairmen had occupied the same seat and moved on with their lives, then his problem may be psychogenic. He needs help elsewhere, certainly not from me.
'If Nuhu is yet to face the reality that EFCC is a Federal Government agency and not a personal estate of anybody eight years after, I find it compelling to remind him, otherwise one day he would wake up to blame me for his defeat in the 2011 presidential election and even his pathetic outing in the 2015 governorship election in Adamawa State despite the slush funds deployed to ensure his victory at the polls.
'I equally suspect that Nuhu may sooner than later blame me for his penchant to jump from one party to other party like a political prostitute; from ACN to PDP and now to APC.
'It is his lust for power, inordinate ambition and desperation for political relevance that continue to push him to dine and wine, and even enjoy the wealth of those he had labelled as corrupt in yesteryears. He can't hold me responsible for his double face, lack of principle and complex contradictions in his character.
'There is also the need to remind Nuhu that before he succumbs to another logorrhoea, he should avail himself a copy of the investigative report on recovered assets during his tenure as EFCC Chairman and use the opportunity of the next naming ceremony or birthday party he is invited to, to explain to Nigerians what happened to billions of funds and assets recovered from suspects under him, with no records or documentation.
'He should be grateful to me that I cleaned his mess by creating an Assets Forfeiture Unit to put the records straight and do things rightly.'
Waziri insisted that she recorded some achievements in office including the ability to secure 450 convictions.
She said: 'No matter how hard Nuhu tries to obliterate my tenure with his numerous lies, the record of over 450 convictions secured during my three and a half year sojourn in EFCC remains indelible.
'Though I inherited about 10 high profile cases from him in 2008, we took over 75 of such high profile cases to courts, with another 1,500 low profile cases pending in courts as at my exit in November 2011.
'We initiated and commenced work on the permanent office complex of the EFCC sitting on a 5.5 hectares of land along Airport Road, Abuja, in addition to setting up offices in Maiduguri, Borno State and Ibadan, Oyo State to expand the Commission's scope of operations.
'I can go on and on, on my achievements. I have decided to mention just a few for now to discourage Nuhu from claiming the credit for them when next he wants to make himself happy or seek political relevance.
'At this juncture, let me advise Nuhu to stop being a weeping man. Garrulity does not heal frustration or depression. He may consider vying for a local government chairmanship or councillorship position to get busy so that he can stop spewing falsehood, fables and lies to seek public sympathy and political relevance.'
Ribadu had in an earlier comment, said Mrs Farida Waziri, who took over from him as the EFCC chairman, partnered with Aondoaka to inflict serious damage on the EFCC, from which the commission is still struggling to recover.
He said, following Waziri's appointment, corrupt practices that were unheard of became widespread in the commission and lawyers were brought in to handle very important cases that sometimes were turned into avenues of making money. - The Nation.