ONLY NIGERIA WILL SOLVE NIGERIAN PROBLEMS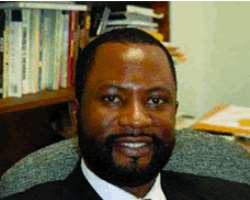 Umez
A Nigerian lecturing at the Lee College in Texas, United States, Prof. Bedford Umez has described Nigeria as a country bedeviled by various socio-political blights, but says the solutions still lie within the Nigerian system.
In a recent chat with Saturday Sun during his visit to Nigeria, Prof. Umez said he was shocked that Nigeria he left in the 70s when N1 was an equivalent of US$0.63 has degenerated into a place of pain and anguish.
Umez regretted that: 'Kidnapping for ransom is now added to the catalogue of Nigerian tragedies such as concealing Nigerian money in foreign countries by some Nigerian leaders, massive unemployment, acute and chronic hunger, political victimization, galloping inflation, 419, corruption, failing institutions of learning, healthcare crisis, bad and dangerous roads.
'We have also entrenched frequent power failure, scarcity and the rising cost of fuel, among others.'
The academic described the trend as a shameful situation. 'Today, life expectancy at birth in Nigeria, according to CIA, is 46.94 years. By comparison, Nigeria is No. 216 out of 224 countries. And, the percentage of Nigerians 'below the poverty line' is 70. This is most shameful', he stated.
Further venting his disgust, he recalled that 'in 1978, I was living comfortably on a salary of N94 a month as a secondary school teacher at Chukwurah High School, Onitsha, Anambra State. Mid 70s to early 80s, N1 was enough to feed a hungry man for a whole day in Nigeria. It was an era when a 30 kobo plate of stewed rice would satisfy a hungry lady. In 1980, the exchange rate (naira/US dollar) was, on the average, 70 kobo to $1.00. Today, the exchange rate is N152 to $1.00. Should it be that way? To the frequent flyers (those that junket the world stashing ill-gotten wealth overseas), it should be.
To them, there is no problem at all; let naira continue to depreciate after all their money (stolen from Nigerians) is safe in some foreign banks.
Umez is not happy that between 70s and early 80s, motorcycles, we call okada today, were never a part of the public transportation. As at 1981, motorcycles were used for what they were meant for – leisure rides. Today, motorcycle leisure ride is over, completely over. Nigerian masses - young and old now risk it all, and board okada as their means of public transportation. And he could not mak sense why it should be so.
'Between 70s and early 80s, Nigerian education was super. In elementary school, children enjoyed learning, and learned substance.
They were taught obedience, and they had good reasons to obey the laws of the land and the authority figures. They were taught the truth, and they had good reasons to be honest and truthful. They were taught patriotism, and they had good reasons to love Nigeria. Teachers instilled in students the spirit of healthy competition in academic works. By the time one finished secondary education; one had already mastered good writing, and communication skills. Because of the high premium placed on education then, Nigerians were known all over the world as brilliant people.
Some of us that came to the United States for university degrees in the early 80s quickly discovered that some of the courses we mastered in secondary schools in Nigeria were being taught freshman level students in American universities. American Professors considered Nigerian students academically brilliant and very smart. Indeed, a lot of Nigerians got their BS degrees in three years, and several Nigerian students, including this man talking, won all sorts of scholarships in American universities.'
The fond memories of what NIgeria was then and good it was has not escaped his memory. Hr knew of the 'Udoji Award' - the award that earned Nigerian headmasters free, brand new Passat cars, and earned secondary school principals, free 504 Peugeot cars. Similarly, he still remembers the Volkswagen kombi buses donated to all secondary schools in Nigeria then. 'We still remember, and will forever cherish our joy and happiness, riding those kombi buses to other schools for debating tournaments, football matches, and other extracurricular activities.
The status of Nigerian education today confounds the man who came back to experience a lot of shocks? What he sees is that public education has been abandoned. Teachers are underpaid, and sometimes will not be paid for months. As such, schools are often closed for months because teachers are on strike.
'Today, a lot of school buildings have no windows and doors, and some buildings are worse than pigsty. Some schools lack teachers because some teachers are quitting their jobs because of inadequate pay. In fact, a causal glance at some of the writings of some Nigerian university graduates today speaks volume about the level of decay in our education', he pitiably observed.
What about children's moonlight play. Those heritages the people lived on? Whereas in the 70s and early 80s, children joyfully rushed out of their parents' homes at night to play with their peers in the moonlight after some rich, delicious supper, today, the fear of kidnap ha confined the benefits of such cultural interaction to faded memory.
'As children, we often played till midnight without the slightest worry about kidnappers or armed robbers, and still maintained our virginity. Today, moonlight play is over - completely over. No one plays on empty stomach, and no one wants to risk being kidnapped.
It was the era when Nigerians hailed Nigeria, their fatherland - the era of the 'Giant of Africa.'
The reasons why things changed this fast for the worse are not far to fetch – it is the corrupting influence of the leadership, Umez reasoned.
'Most Nigerian leaders then practised 'charity begins at home' by investing much of our oil revenue in Nigeria and in Nigerians. As such, the Nigerian economy was strong, education super, and Nigerian currency highly valued in the world market. There were jobs in Nigeria then. Above all, corruption and armed robbery were isolated incidents, and vicious kidnapping for ransom nonexistent.
'Today, a substantial number of Nigerian leaders and the elite are frequent flyers tragically stealing and concealing Nigerian money in foreign banks, even though they know more than anyone that foreign leaders have no kobo in Nigerian banks and have no intention of opening any bank account in Nigeria; in fact, they are laughing at us.'
However, Umez has the cnfidence that: 'Despite everything hope still lives on within some folks like me. That hope is the trust that people can (and do) change, especially when they really look at the shame their action is bringing to their own people, and their country. I do hope that frequent flyers (who are robbing Nigeria only to hide the loot abroad) can reflect upon the irrationality of feeding Swiss people and their allies when our people are starving, and;
'When they feel the shame their actions put on Nigeria and Nigerians, and therefore start investing Nigerian resources in Nigeria as leaders are supposed to do things will change. This should not be difficult to understand because even animals get this basic, elementary understanding that 'charity must begin at home.'