NDLEA uncovers clever methods employed by drug traffickers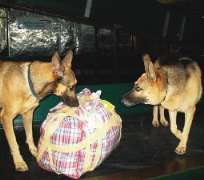 The National Drugs Law Enforcement Agency  in Adamawa has detected new methods of  employed by drug traffickers in the state.
Mr Yakubu Kibo, the commander of the agency in the state, made this known while speaking to the News Agency of Nigeria (NAN) on Friday in Yola.
Kibo said that the new modes detected included stuffing of vehicle compartments like doors, car oil tank and spare tyres by traffickers.
According to him, his command was able to detect and intercept the drug dealers because of an intensive patrol approach adopted by the command on major highways across the state.
READ MORE:   EFCC Grills Ex-AGF Aondoakaa Over $182m Halliburton Scandal
Kibo explained that his command recently intercepted a suspected drug dealer in a Toyota Corolla car, with registration number Adamawa JMT 177 TH, on his way to Yola from Jalingo, Taraba state.
"During search, our officers noticed that the doors of the car were abnormally heavy when being opened and closed.
"This aroused suspicion and the driver was ordered to remove the door marts; when he opened the door compartments, the officers found that the doors were stuffed with bottles of Cough syrup with codeine.
READ MORE:   More Infrastructure Licences Coming
"The discovery led to the comprehensive search of the entire vehicle and more bottles of cough syrup with codeine were found in other compartments and the arm rest inside the car."
Kibo said that the officers also found bottles of the cough syrup stuffed in the spare tyre of the vehicle.
"A total of 840 bottles weighing 62.4 kg were found concealed in the car.
"Similarly, a Toyota Starlet with registration number AT 48 YLA going to Chigari village in Fufore local government area from Yola was intercepted for search. While searching the vehicle, assorted illicit drugs weighing 18.25 kg were discovered," the commander said.
READ MORE:   Again, Nigeria's Manufacturing Index Declines in August
He said the drug found on the Starlet included Cannabis Sativa 9.2 kg, Tramadol 8.4 kg, Diazepam tablets 453 grams and Extol-5 tablets 200 grams.
Kibo appealed to the public to join hands with the agency in the fight against drug trafficking and abuse.
Credit: NAN