PDP lawmakers stage walkout from Senate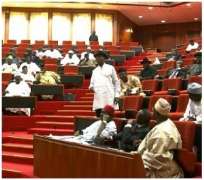 Senators elected on the platform of the People's Democratic Party (PDP) have staged a walk out on the senate following the declaration that Senator Yele Omogunwa from Ondo South has defected from the PDP to All Progressive Congress (APC).
Senate President Bukola Saraki on Wednesday announced the defection of Omogunwa, a Senator from Ondo south, from the Peoples Democratic Party (PDP) to the All Progressives Congress (APC).
Until his defection, Omogunwa was the only PDP senator from Ondo state.
Ajayi Boroffice, a senator from Ondo north, and Tayo Alasoadura, a senator from Ondo central, are APC members.
‎Speaking after the announcement, Godswill Akpabio, senate minority leader, said since Omogunwa had defected to the APC, his seat ought to be declared vacant.
He asked Saraki to declare Omogunwa's seat vacant.
But Saraki declined, and ruled him out of order.
The senate, thereafter, erupted in a cacophony.
Senators who are members of the PDP then walked out of the chamber.
Speaking with journalists after the action, Akpabio said the senate caucus would work with the leadership of the PDP to ensure that Omogunwa's seat was declared vacant.
‎'We walked out to protect the sanctity of democracy. Our protest is in line with the law,' he said.
'The supreme court has settled the issue there is no division in the PDP, so there is no need for a defection. So, Omogunwa should hand over our seat while he goes to support the APC in Ondo state.'