Okorocha cancels MoU between oil companies, host communities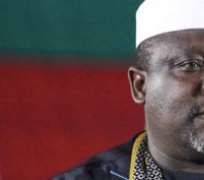 Following the cancellation of Memorandum of Understanding, MoU, entered into by oil companies operating in Imo State with their host communities, henceforth such MoU will not be considered relevant without the approval of the state government.
According to a release issued yesterday in Owerri by Governor Rochas Okorocha's Chief Press Secretary,  Mr Sam Onwuemeodo, it was the view of the government that the leaders in the oil communities have used the MoU  to impoverish and deny their people whatever were due to them.
The release stated: 'Their leaders have been short-changing them with such Memorandum of Understanding by collaborating with the oil companies in question and  taking  the laws into their hands.'
'To avert further trouble in the concerned communities, the governor, therefore, cancelled all existing MoUs between the oil companies and the leaders of the communities in question and directed that such MoUs would now be signed between the communities and oil companies.
'The full involvement of the government will ensure that the people at the grassroot would not be schemed out of such exercises.
'We regret that the oil companies had leveraged on the dubious activities of some leaders in the affected communities to deny the communities what should be due to them for the development of the areas.'