I am living my dream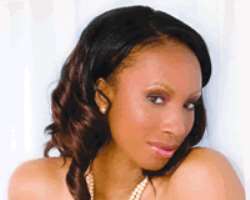 Adaora Oleh, MTN Project Fame host
Adora Oleh was born and raised in Surrey, England. She was hosting a two-hour live interactive programme, The Magazine Show, which was a lot of fun to her. At the same time, she was working as an International Film Marketing Promotional Manager with Paramount and Universal Film Studios in London. She was responsible for the international marketing strategies and film distribution across Europe for a variety of Hollywood blockbuster movies.
Oleh was in Nigeria last year and got wind of the MTN project Fame West Africa. She was auditioned and found worthy to co-host the show. Delectable Oleh who studied Law, also holds a post-graduate Diploma in Media Law and Journalism. She also has a postgraduate in Public Relations from the London School of Journalism. She spoke with rAgatha Emeadi ecently on her personality and the launch of Adora Oleh show. Excerpts:
How did you come about Project Fame?
I was actually in Nigeria in April last year, I was organizing and trying to get my own television programme called The Adaora Oleh Show started in Nigeria under my own television company called Chiad TV Productions that I formed with my sister, Chika. While in Lagos at that time, I heard of the audition for MTN Project Fame West Africa, I decided to audition. I heard that I was successful when I got back to London, so I had to rush back to prepare myself to co-host the show, I was very excited!
Have you been handling events before Project Fame?
Okay, before Project Fame, as a broadcast journalist, in 2005 my sister and I had already registered our own TV production company, Chiad TV Productions, where we co-produced two TV shows. One of which was a two-hour live interactive show and the other a music chart show. We also hosted and managed corporate events, which Chiad Productions still continues to do, some of the shows that we have been involved in include: The Nigerian Music Awards in London, Miss Nigeria UK, The Ghana Professional Awards, The Nigerian Institute of Accountants Award. We have also worked with the Princes Trust (Prince Charles's official charity) and the MOBO Music Awards.
Last year, I also hosted the London leg of the This Day Music and Fashion Festival, hosting alongside Trevor Nelson MBE at the Royal Albert Hall, which was absolutely fantastic! But, I am not crowd phobic, I really enjoy what I do, I regard myself as a people's person. My earliest memory of hosting to a big crowd was when I hosted the Nigerian Music Awards in London with Sony Irabor. The crowd was encouraging, very energetic and lively which made my job easy, so it was a great first experience. Just like Project Fame, which finished in September last year and during Christmas season I hosted alongside Olisa Adibua at the Ovation Red Carol at the Ocean View, Victoria Island. Most recently, I hosted the red carpet for the Governor's Ball and grand finale for Mnet's Face of Africa.
So where did you grow up from
I grew up in Surrey, England; I had a very good childhood. If you ask my mother she will tell you that I love to sing and dance, and honestly speaking, I still do. There were a lot of fond memories, but one that sticks out would be the parties we used to have at home, during Christmas or birthday parties when I was young. All my cousins would attend, we would make up dance routines, practise them and dance for our parents all night long. And as far back as I can remember I have always been interested in the media industry. When I was young I actually thought about what I am doing now! So right now I feel like I am living my dream.
What do you do presently?
I am a Broadcast Journalist and a TV Presenter by profession and I am the CEO of my TV Production formed by my sister and I.
What are your high and low points?
I try and stay positive about most things. Working in my chosen industry and getting to where I have is a real blessing for me so I am definitely experiencing a lot of highs, which is great. During the start of my work in Nigeria, there was a definite transitional period that I went through; but anything that doesn't break you will make you.
Family background
I am the first child of three children, my father was a Civil Engineer and my mother is a Property Lawyer. I have one brother and one sister.
Compare life in London and Lagos
There was definitely a transitional period when I came back to Nigeria. Learning how to do things differently and not how to do things but it is a pleasure to be here, I have been coming back to Nigeria for many years, before this time, so I am used to the environment.
How do you maintain your body?
Oh, thank you! I guess I do the usual recommended things. I enjoy going to the gym, I try and work out at least three times a week, and I am also into yoga and try to drink the daily-recommended amount of water. That is what I do.
How do you relax?
In the company of friends or attending parties.
I enjoy going out for dinner with a group of friends,
Tell us about the launch of The Adora Oleh Show
Well, I am really excited about it, as we have been working very hard on the show for a while now. It is a one-hour entertainment show featuring celebrity and entrepreneur interviews with a fashion and music review; there will also be weekly competitions.
It is showing every Sunday at 3.00pm on Sound-city and repeated on Tuesday's at 7.00pm. The launch was fabulous. We had the party at Tribeca in Victoria Island and supports came from Polo, Ovation, Lauren Perrier Champagne. It was a wonderful evening.
What advice would you give women who wish to succeed in life?
I always believe that as long as you stay focused you can achieve anything; I know that sometimes it is easier said than done, but it works. Remember your goals and why you decided to do what ever it is you want to achieve, and don't stop until you are satisfied that you have gotten to where you are going.