November 25, 2016

| Ghana
GirlEmpowered Launches "Say No To Violence" Campaign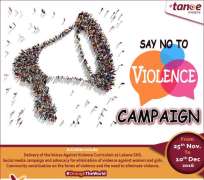 GirlEmpowered joins the International community to "orange" the world in an International action period aimed to end violence against women and girls around the world, the campaign which features 16 Days of Activism against Gender-Based Violence, from International Day for the Elimination of Violence against Women on 25 November to Human Rights Day on 10 December, "Orange Events" will take place around the world.
GirlEmpowered joins the campaign by running the "Say No To Violence" campaign. This campaign features several activities undertaken by GirlEmpowered on social media and in communities and schools which aim to convey anti-violence messages.
The campaign starts with the recognition of the International day for the Elimination of Violence Against Women and girls on 25th November 2016. The United Nations' (UN) International Day for the Elimination of Violence against Women is an occasion for governments, international organisations and non-governmental organisations to raise public awareness of violence against women. It has been observed on November 25 each year since 2000.
To commemorate this day, GirlEmpowered is delivering the Voices Against Violence curriculum at Labone Senior High School.
The campaign will continue with social media advocacy and messages on the need to end violence or sustain the peace and its impact on the girl child especially as the Election Day draws near. Other activities include community sensitisation on the elimination of violence and human rights.
In a statement issued by the National Coordinator of GirlEmpowered; Marian Darlington, she states the need for stakeholders to join the campaign to "Say No to Violence".
She stated that violence of any form must not be overlooked or brushed aside as the "little" signs are what usually develop and go out of hand.
She further stated that violence against women and girls is not just a female concern but a national concern and must be addressed in a nation that seeks to promote national peace.
Marian Darlington was recently appointed by The African Network of Entrepreneurs (TANOE) as the National Coordinator of its non-profit flagship project GirlEmpowered, which promotes sustained empowerment and skills development of teenage girls.
For more information email: [email protected] /[email protected] or call 0577674040 to volunteer or donate.