Fadeyi Oloro In By Fire By Force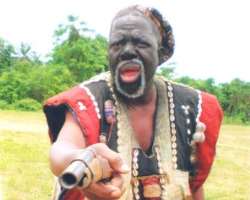 As dance drama is gradually becoming popular in the Yoruba movie genre, especially after the success recorded in the production of Alfa Sule by Femi Ajewole, many have since followed suit.
A similar project titled By Fire By Force, packaged by Ademola Adelakun of Imisi Oluwa Drama Ministry and Mega Star Entertainment outfit, will soon hit the market.
The flick, according to Adelakun, is a unique dance drama that movie lovers can't afford to miss.
"By Fire By Force is a dance drama that will now set the record straight. We have given it all it takes to shoot the best dance drama, as we did not take anything for granted, including musical, lighting, visual, audi and costumes. We also featured the National Troupe that added glamour to the movie. By Fire By Force is definitely a dance drama to beat and copy," he boasted.
By Fire By Force is a true life story. It features only one star actor, Ojo Arowosafe aka Fadeyi Oloro, who plays the role of Abore of Ori Kingdom.
The traditional ruler of Ori Kingdom is Moses Adeyemi a.k.a. Mosco. He told his three children before his death that they should always adhere strictly to the call and instruction of Abore to succeed.
The two elder children complied but were later killed by a lion, while the last child, Esurotimi, who later changed his name to Oluwarotimi after becoming born again, turned against Abore (Fadeyi).
It was just like the biblical battle between David and Goliath. The staff of office of Ori Kingdom was later claimed by the victorious Oluwarotimi, the character played by 12-year old Gbenga Ajayi