Senate summons Kachikwu over $115bn oil deals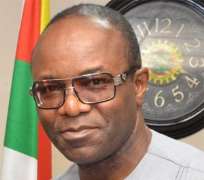 The Senate on Tuesday said it would probe Nigeria's recent oil deal with India, worth over $80bn and another with China worth $15bn, with an additional $20bn deal with China's two biggest petroleum companies.
The upper chamber of the National Assembly has therefore mandated its Committees on Petroleum (Upstream), Petroleum (Downstream), Petroleum (Gas) and Foreign Affairs to summon the Minister of State for Petroleum Resources, Ibe Kachikwu, to explain the details of the deals.
The move was made following a motion moved by the lawmaker representing Edo-Central Senatorial District, Clifford Ordia, titled, 'The Need for a Detailed Explanation of the $15bn Proposed MoU with Indian Government and over $80bn MoU Signed by Minister of State for Petroleum Resources with Chinese Firms.'
'The Senate observes that outside these (MoU for $80bn investments), the two largest oil companies in China, Sinopec and CNOOC, signed investment MoUs with the Minister of State for Petroleum Resources, committing the companies to further investments in Nigeria's upstream oil sub-sector to the tune of $20bn,' Ordia said while moving the motion.
The senator said the Senate was aware that Kachikwu negotiated a $15bn investment with India, where the Indian government would make an upfront payment to Nigeria for crude oil purchases.
He said, 'The Senate is further aware that the two countries have agreed to sign a Memorandum of Understanding to facilitate investments by India in the Nigerian oil and gas sector, and specifically in areas such as refining, oil and gas marketing, upstream ventures, the development of gas infrastructure and in the training of oil and gas personnel in Nigeria.'