I join Akwa Ibom people and entire Ibibio Nation to wish Obong Victor Attah HAPPY BIRTHDAY!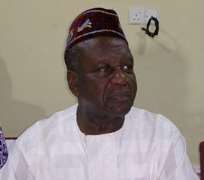 A professional and a humble father to the core. Obong Victor Attah is a man that transformed Akwa Ibom State to an enviable status that it is today.
Let it be on record that Obong Attah is a loving father. And he was loved by his children. He is one and only governor who will walk to a local drinking joint to relax with his subjects all by himself; without fanfare and armed to the teeth escorts.
A great man who reigned for good 8 years and never kill or cause anyone to kill any Akwa Ibom son or daughter. Your wife was also honourable and full of virtue.
You fought for resource control and defeated atoro uduang ufok Obasanjo.
Obong Victor Attah, irrespective of political prolifiations and differences, you are a man of honour. Uwana Akwa Ibom; Uwana Ibibio! Abasi odiong fien.
Chris Udoh
ATLANTIC CITY