Being An Inaugural Speech Delivered By Com. Adewumi, Idowu Peter, The National President, Federation Of Ekiti State Students' Union At The Occasion Of Inauguration And Swearing-In Of New Fessu National Executives At Com. Suyi Aribisala Hall, Ekiti-Nlc Sec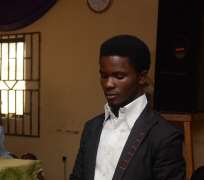 Protocols,
1. It is yet another red-letter day in the history of our union. A gathering of this magnitude, is indeed vital not only because of its conglomeration of intellectually sound individuals but it also gives us the golden opportunity to witness the transfer of power and mantle of leadership of our union from one set of executives to another. It is on this scrupulous note that I welcome you all, men of timber and caliber, though not leaving out ladies of virtues, to this worthwhile occasion.
2. I want to salute the ingenuity of the Electoral committee, under the leadership of Com. Adesuyi Seun Franklin for conducting the most peaceful and credible election in the history of our union. I also register my ultimate gratitude to the outgoing Executives led by Com Obayemi Peter Seun, for their support. It is pertinent to appreciate the efforts of the union stakeholders in ensuring my success at the election. The undaunted support of my senator, my school management, my parents, friends and associates, and everyone who contributed in both cash and kind to the course is highly appreciated. It is my wish that you all soar higher than humans' imagination.
3. Our dear union (FESSU) is a refuge underneath which all Ekiti indigenous students across the globe hide and seek comfort in times of seclusion and poor treatment; a family where every member express their mind without fear or being misinterpreted by other members; a union where leaders strive heavily to ensure the express liberty of their members. These features made it exigent for me as a rightly-envisioned fellow, who has unrelenting flare for service in the union vineyard to imbibe in myself a mission to re-visit the age-long foundation of the union with the mind of quantifying the level at which past and present generations have done justice to the main motives behind the creation of our union, thus taking responsible steps in re-bridging the existing gap between each and every members of the union.
4. It is logical to say that "it is not your duration (age) that matters but your donation (contribution) to the union and the world at large". I pay encomium to my predecessor for leading his team to record great achievements. I assure you that we are not going to destroy the legacies you have laid but rather, we will build on those legacies as well as implementing new modus operandi for the betterment of our union. We will make sure the ongoing review of our union constitution is completed as quickly as possible, we will foster unity among our members across the nation, we will bring ourselves together through a programme encompassing educational, socio-cultural and sporting activities to be named "FESSU National Annual Mega Week" and it is going to be first of its kind, we will seek the welfarism of our members, thereby paying courtesy visits to various Chapters across the nation, we will extend the coast of our union to students in secondary schools, thus organizing capacity building programmes such as debate and quiz competition for them, we will implement Annual publication of FESSU National; a magazine which is going to be a compilation of facts about issues critical to our knowledge, we will also re-implement the one-time-existing Radio/Television programme where issues relating to Students will be discussed and it will give our members the ultimate opportunity to relate their mind-sets to the union leaders for prompt and proper actions, we will not hesitate to relate politely with the Ekiti state government to ensure we enjoy dividend of democracy as students, we will also maintain good relationship with other external bodies whose interest lies in the development of students and youths populace to attract some goodies for the benefit of Ekiti indigenous students in our entirety.
5. Together they say everyone achieve much; I want to urge my executives to embrace the spirit of team work as it is deemed sin qua non to achieving our set goals with little or no challenges. It is also suffice to urge us all to project the image our families in a manner that will attract external respect and dignity to our families.
6. I want to cease this opportunity to applaud the government of Ekiti state, under the safer hand of His Excellency, Dr. Peter Ayodele FAYOSE over the achievement of various developmental projects (both ongoing and completed) across the state, within the period of 2 years. Our own governor (The Architect of modern Ekiti) is known for excellent performance. His luck to always pioneer laudable projects has rated him higher among his contemporaries and has accorded him great love and respect from his countrymen. It is my utmost wish that God continue to give you more unction to function effectively well.
7. Having said the foregoing, I want to humbly call the attention of our able governor and seek his immediate address of our needs as a student body, forming the most powerful constituency and major stakeholders in the political distribution of any community. Our needs however, are as follows:
• Bursary and scholarship, being the only mean through which students enjoy dividend of democracy.
• Aluta Bus for easy mobilization and welfarism of members, as earlier promised by the governor, dated 7th of June, 2016
• Permanent secretariat for the effective administration of our union.
I appreciate the governor in advance, as I believe he will attend favourably to our needs and will not allow our trust in him to be shaken.
8. As a note of advice, I humbly enjoin every one of us (members of the union), not to turn nonchalant attitude towards our academics as it gives us the opportunity and qualifies us to be members of the union and by extension, it forms the strong basis for the existence of our union. Furthermore, let us all be good ambassadors of Ekiti state as the future of our state lies in our hands as students and youths. It is also essential to charge us to nurture ourselves to be bonafide Ekiti indigenes worthy of standing tomorrow's socio-economic, eco-political and leadership test of time.
9. Finally, always remember that, in our journey to the betterment of our union, plans and policies will be made and amended, mistakes will be made and corrected, achievements will be had then replicated. Through it all, I, ADEWUMI, Idowu Peter, the first in war, first in peace and first in the heart of my union men will stay true to the ideals that fueled the creation of our union.
God bless Federal Republic of Nigeria,
God bless Ekiti State,
God bless FESSU,
10. Thanks and God Bless you all.
ADEWUMI, Idowu Peter
(NOBLEMAN)
FESSU National President
2347039271054
[email protected]
[email protected]
.
Via;
Aare AKOMOLAFE 'Jide-Petkoff
Chief Press Secretary
08102620712