Mourinho turns to Rooney to wreck Arsenal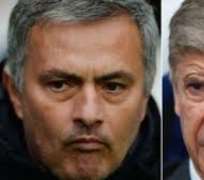 José Mourinho has confirmed Wayne Rooney is available for Manchester United for Saturday's match against Arsenal, with the manager stating 'we know what didn't go well' regarding his captain after the striker apologised for being photographed out late when on England duty.
Rooney left Gareth Southgate's squad at the start of the week due to a minor knee injury that prevented his selection for Tuesday's draw with Spain.
The captain had played in Friday night's World Cup qualifier victory over Scotland but was then pictured at a wedding reception until the early hours of Sunday at the team's hotel in Hertfordshire.
Rooney, along with the rest of the squad, had been given the evening off yet he still felt moved to offer an unreserved apology for 'inappropriate' images.
'Over the last two or three days, nothing happened,' Mourinho said. 'He trained like everybody else, he wants to play like everybody else. He is ready.
'What happened in the national team, happened in the national team. I don't comment. My players when they go to the national team, they belong to the national team. What happens there for good, for bad. I don't interfere and I don't like to comment.
'Sometimes they come back stronger than when they left us, because something good happened there, something positive for them, good performances, good results.
'Other times injuries, sometimes big injures, other times frustrations because they didn't play, because the result was bad.
'In this case, we know what didn't go well. But national team is a different chapter and a chapter that is closed now until March or the end of February.'