Heritage Bank is not distressed: CBN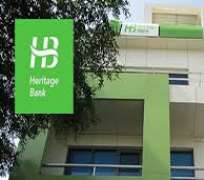 The Central Bank of Nigeria has dismissed as "false and malicious" stories on the social media insinuating that Heritage Bank is under financial distress and therefore unable to discharge its obligations to its depositors.
"We wish to state that Heritage Bank is not in distress and as such its depositors should go about their transactions without fear," CBN Ag. Director, Corporate Communications, Isaac Okorafor, said .
"For the avoidance of doubt, we wish to further state that no Nigerian Bank is in distress," Okorafor said in a statement issued in Abuja.
"The CBN, as the industry regulator, has a duty to depositors, in particular, and the economy, in general, to ensure the soundness of all financial institutions.
We therefore wish to assure all depositors of the safety of their deposits.
"The CBN also wishes to state that it will remain alive to its responsibility of ensuring banking system stability and soundness through constant monitoring and supervision of all licensed institutions.
"The Central Bank of Nigeria wishes to reiterate that the banking system remains resilient enough to weather the current economic storm."
The SaharaReporters had on Monday that the  Heritage Bank Plc was stuck in a debilitating liquidity situation.
According to the online news platform, the bank is unable to meet customers' immediate withdrawal requests and has wiped out all foreign currency domiciliary accounts through physical theft of cash by the bank's directors.
It further reported that First Bank Plc, which handles Heritage Bank's universal clearing activities, had threatened to blacklist the bank and stop further clearing transactions if its outstanding deficit of over N5billion is not cleared.
At the weekend, at a meeting held at a secret location between the Managing Director and some top management staff, it was resolved that the Managing Director and two Executive Directors should resign their appointment for their role in throwing the institution into distress.
Sources said the bank's operations in the Northern part of the country region are sustained by one customer, Rano Oil Limited, which maintains a deposit with Heritage Bank because its Chairman is unaware of the severity of the situation in the bank has slipped into.