Ondo goes agog as Appeal Court rules in favour of Eyitayo Jegede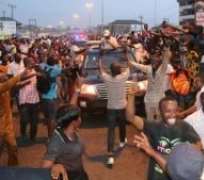 There has been wild jubilation across Ondo State since the Court of Appeal granted Eyitayo Jegede leave to appeal the ruling that warranted the substitution of his name on the Independent National Electoral Commission (INEC) list of candidates in the state's governorship election scheduled for November 26.
Major towns across the three senatorial districts: Ondo City, Igbokoda, Okitipupa and Owo, yesterday witnessed their own share of the jubilation, which had earlier been witnessed in the capital city, Akure and Ikare, on Thursday evening following the favourable court ruling.
The state governor, Dr. Olusegun Mimiko, was in Ikare, North Senatorial District of the state, where he had gone to flag off a 4.7km road project, when the Appeal Court siting in Abuja gave the ruling.
The entire Akure metropolis was still agog when Mimiko arrived the already crowded capital city streets and was instantly besieged by people singing victory songs. He had to join them to move round town, thanking the people for their patience since the PDP candidacy imbroglio started.From Jegede's campaign office down to the popular Oba Adesida Road in Akure, the people trooped out to congratulate the governor and his team, shouting "PDP! Power! Iroko! Gbasibe!"
While addressing the mammoth crowd, an elated Mimiko commended the people for their loyalty while thanking God for the outcome of the ruling so far. He charged the people to continue with their "house to house" campaign to win many more people to support Jegede's ambition. He also enjoined those who were yet to collect their Permanent Voters Card (PVC) to do so during the weekend, noting that the fight would be won with votes.
He assured the enthusiastic crowd that Jegede's project is God's own project that would be completed by the Almighty Himself.
It was also a carnival-like setting in Okitipupa, where the state government flagged off the second phase of its free food distribution under its Palliative Programme. The food distribution team, which arrived Okitipua as early as 9.00am, could not settle down for work, as the entire town was agog with jubilation over Jegede's favourable rulings.
Guardian