Fayose hails Trump's victory, says God has repaid Obama for imposing Buhari on Nigeria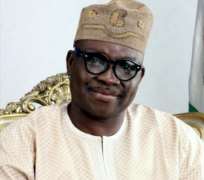 Ekiti State Governor, Mr Ayodele Fayose has hailed the victory of the
Republican Presidential candidate, Donald Trump in the United States
of America (USA) election, describing it as "the beginning of a real
change in Nigeria because those who imposed the present All
Progressives Congress (APC) government on Nigerians just lost out."
The governor said; "Now that Trump has won, it portends hope for
Nigerians that the excesses of the President Muhammadu Buhari led
federal government will stop as the road has ended for those who
conspired to impose Buhari on Nigerians."
Reacting to Trump's victory, Special Assistant to the Governor of
Public Communications and New Media, Lere Olayinka quoted the governor
as saying in a statement issued in Ado-Ekiti on Wednesday that he
believed that Trump will be able to tell President Buhari to respect
rule of law and sit at home to solve the country's economic problems
instead of junketing around the world.
The governor said; "Trump presidency symbolises different things to
different people and nations. It symbolises God at work and a clear
departure from the old order.
"It is also a turning point for Nigeria and Nigerians, particularly
those controlling the federal government that must have to change
their ways as their allies who imposed them on us just lost out.
"Most importantly, President Barack Obama got what he did to Dr
Goodluck Jonathan. God bless President-Elect Donald John Trump!"
Describing the conduct of the elections as a lesson for Nigerians,
Governor Fayose said; "The US elections started and ended seamlessly.
The electoral umpire never meddled; the military, police and SSS did
not provide cover for ballot snatchers. No printing of doggy result
sheets. I think Prof Mahmood Yakubu and his INEC should learn from
this for posterity. They should stop aiding unpopular politicians to
rob the people of quality leadership."
Speaking further, Governor Fayose said the election of Trump signals
the hope of a possible defeat of the APC government foisted on Nigeria
by the USA influence.
The governor said; "I prayed to God that if Trump will be the one to
save us from this present state of hopelessness, God should give him
victory. I prayed that God should let Trump win so that another
change can begin in Nigeria. I am happy that God answered my prayers
and gave Trump a resounding victory.
"I am also happy that God has humbled those who conspired to impose
the present APC government that has brought hunger, suffering, abuse
of human rights and destruction of the Electoral system on Nigeria and