I Am Gwilz And I Am Lyrically Licensed To Kill!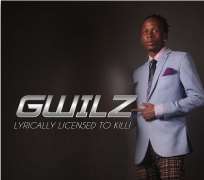 He takes no prisoners and fears nobody. He is hot, fresh and daring. He is the one-man riot squad who cannot wait to give all the major rappers in Nigeria a run for their money.
Not caring whose ox is gored, he says to everyone's hearing "I am Gwilz. I am the King of the Word, the Toastmaster-General and the Minister of Rap. I am lyrically licensed to kill!"
You better get used to the name, Gwilz because very soon you will see girls everywhere swoon to the music of Gwilz and recite his lines, word for word. For certain, people of all ages will scream the name, 'Gwilz!' The only exception will be the guys who will be beefing because Gwllz has so much they don't have but Gwilz does not give a hoot.
Gwilz is an exceptional talent. He knows how to weave words together and create unique impressions. Gwilz has the uncanny ability to start a rap line in uppity English, swing to Igbo, pivot to Yoruba, come back to pidgin while keeping the beat pumping.
Gwilz is an original street boy and he has the scars to prove it. He has earned every degree you can earn in the University of 'Hard Knocks'. On his way to fame, he has done every un-fancied job you can imagine. Not too long ago, he was a barber, cutting fancy hairstyles in the Egbeda and Gowon Estate areas of Lagos.
Says Gwilz, "I do what I have to do and say what I have to say. I grew up wanting to be a very good dancer but dancing in Egbeda was highly discouraging, so I gave all to music, irrespective of what everyone said to me. I am the 3rd child of my parents and I have strived hard to become somebody in order to avoid mediocrity. At this point, I don't think there is any amount of discouragement that can break this wed-lock of "my music and me".
For several months, the unique sound of Gwilz, a Libra born on October 1, Nigeria's Independence Day, has been roasted, toasted and cooked in the TOPS kitchen. The music of Gwilz is one of the very exciting delicacies being garnished in the kitchen of TOPS, the hot music production, publishing, distribution and events company, owned by the purist former PMAN President and COSON Chairman, Chief Tony Okoroji. The Chef-in-Chief has been Okoroji who for many years was a sought-after music producer and Artiste & Repertoire Manager for the world-wide recording company, EMI.
Says Gwilz, "We are all young and creatively crazy at TOPS: song writers, singers, producers, choreographers, managers, etc. We break every rule and create new rules. Our motivator, Chief Tony Okoroji, has given us a marching order. He has told us to go mad and create Nigeria's new music and boy are we doing it? Nobody can stop me now because finally, Gwilz is doing that which he had for a long time prayed to do for free. The stupid thing is that I am getting paid for it!
"I am sorry for all those guys out there making a lot of noise. Very soon, they will have to deal with Gwilz. I am the King of the Word, the Toastmaster-General and the Minister of Rap. I was born on October 1 and I am lyrically licensed to kill!