IBORI ARRAIGNED IN DUBAI, GRANTED BAIL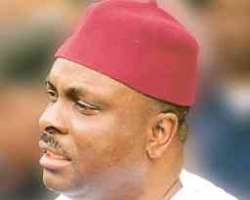 Chief James Ibori
A former Delta State Governor, Chief James Ibori, appeared before a Dubai, United Arabs Emirate court on Thursday but was granted bail.
The bail terms were yet to be ascertained as at press time on Thursday, but his Media Assisitant, Mr. Tony Eluemunor, said he was left to 'go free.'
The Metropolitan Police Service of London, on whose instance the former governor was arrested, however, said it had started the process for his extradition to the United Kingdom.
Reacting to the arrest, the Economic and Financial Crimes Commission, which had declared Ibori wanted, said it would consult with the National Security Adviser, Lt.-Gen. Aliyu Gusau (retd.), to seek his extradition to either Nigeria or the UK.
The UAE government signed an extradition treaty and mutual legal assistance with the UK in 2008.
Ibori is needed in the UK to answer questions over allegations of money laundering and other criminal offences for which his associates are currently standing trial before the Southwark Crown Court in London.
Ms Udoamaka Okoronkwo; Ibori's sister, Christine Ebie; and his former personal assistant, Mrs. Adebimpe Pogoson, are among those on trial in the UK.
One of the former governor's lawyers in the UK is also awaiting trial for allegedly aiding Ibori in money laundering.
In Nigeria, Ibori is wanted over allegation by the Delta State Elders, Leaders and Stakeholders Forum, that he sold shares belonging to the Delta State Government and used the proceeds to buy a United States oil servicing company, Wilbross, while in office as governor.
Giving an insight into how Ibori was arrested, Eluemunor said that UAE security agents, who stormed his hotel room first told him that he was wanted over a credit card fraud.
He said, 'Chief Ibori walked out of a Dubai court this(Thursday) morning on bail, after having been arrested on Wednesday. He was in a hotel room by 9pm on Wednesday when some agents walked into his room, introduced themselves as acting on behalf of Interpol, saying he was wanted in London.
'When Ibori asked why he was wanted in London, they said over a credit card fraud. When Ibori replied that he had not been to London since 2005, they modified the reason and said he was wanted for theft. So Ibori said that as they were not sure of the charge, he would not go with them to London. So they took him to a police station instead.
'The following day, May 13, he was taken to a court where he was granted bail, and he was allowed to go free.'
Eluemunor added that the former governor had appealed to his supporters, aides, friends and political associates not to panic over his ordeal as the rule of law was always there to protect any victim of persecution.
Ibori, who maintained that he was 'presently being persecuted owing to my political belief,' accused his political enemies in Nigeria and their UK co-conspirators of declaring him wanted over charges that had not yet been made public.
'Today (Thursday), the question where is Ibori has been laid to rest. I am in Dubai and the world knows it,' the former governor said.
A US-based Nigerian online news agency, Saharareporters, had quoted a UK police spokesman as saying that the Met. police would commence the former governor's extradition proceedings from the court.
According to the agency, officials of the Ministry of Justice met in Abuja on Wednesday with their UK counterparts to discuss Ibori's arrest and his likely extradition.
It claimed that the Nigerian officials gave documents relating to Ibori's case to the UK officials.
A former Attorney- General of the Federation and Minister of Justice, Mr. Michael Aondoakaa, had earlier blocked the release of the documents, said to be vital for Ibori's prosecution in London as well as the trial of his associates in the UK.
In Abuja, the EFCC Chairman, Mrs. Farida Waziri, told a select foreign and local journalists that she was 'excited and surprised' at the arrest of the former governor.
Waziri added that operatives of the commission might visit Dubai to seek Ibori's extradition to face trial in Nigeria or allow the Met police to take him to the UK.
She said, 'We have good news. I was just talking to the Nigerian Ambassador to the UAE, Alhaji Bashir Yuguda. It has been confirmed that Ibori was arrested by the Interpol.
'My initial reaction when I heard of Ibori's arrest was that of excitement and surprise too. Surprise because somebody said he had gone to Ghana, some people said he was still somewhere in Delta State, some said he was in his village(Oghara), yet others said he was in Warri.
'We have been interacting with the Interpol and the Met. police since we declared him wanted. International warrant of arrest was also issued. Yesterday (Wednesday), he was arrested and he is undergoing interrogation with them there in Dubai.
'The man in charge of his case in the UK has dispatched detectives to Dubai to start the process. We are consulting here also.
'I will discuss with the National Security Adviser on the next line of action; whether our officers would go to Dubai or whether the Met. police would want to take him to start his trial there. We also have our cases against him here pending. That is the good news.
'We have a case against him in the Appeal court, Benin Division. That is over the quashing of the 170-count charge. We appealed, but when the case came up, he was not there.
'We have fresh charges for which we want to arraign him (that is) totally different from the earlier charges. There are other charges against him, which we don't want to reveal for now. As I told you, we have been working very closely with the Met. police.
'We have been sharing information and we have issues which we don't want to go into now. We are talking with the Interpol, the Met. police and the Dubai police in whose custody he is right now (Thursday morning).'
Waziri said it would have been a Herculean task to track down the ex-governor if he had escaped to places like China or Japan.
Waziri vowed that the EFCC was prepared to prosecute Ibori since it already had witnesses ready to testify against him.
She also reacted to a statement credited to a Lagos State High Court judge, Justice Olubunmi Oyewole, that if the EFCC had done a good job, a former Chairman of the Nigerian Ports Authority, Chief Olabode George, would have received at least a 10-year jail term.