No election will take place in Ondo without PDP: Mimiko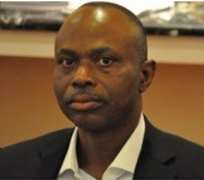 The Ondo State governor, Dr. Olusegun Mimiko, has said that it is well-nigh impossible for the governorship election  take place in the state on November 26, 2016 with the issue of the candidacy of the Peoples Democratic Party still unresolved.
Mimiko, speaking on Sunday at the PDP stakeholders' meeting in Akure, the state capital, said the PDP as a party in Nigeria and Ondo State in particular, is a major stakeholder in election matter and no one can prevent the party from participating in the forthcoming governorship election in the state.
"I don't know how they will do it, it is impossible for them to deny us our right. Justice will stand and Jegede will contest this election. Election can't take place in Ondo State without the PDP."
 The governor explained that the substitution of name at the Independent National Electoral Commission, INEC was a conspiracy because the decision of INEC could not find comfort "in justice, in principle, in law and in morality."
He, however, assured that the issue of the PDP standard bearer in the governorship election would soon be resolved by the appellate court and expressed the assurance that the candidate of the Ahmed Makarfi's faction of the party, Eyitayo Jegede (SAN), would contest the election.
Mimiko, who noted that redress had been sought by Jegede, the PDP and major stakeholders, assured the party members that justice would be done because the alleged impunity on the matter would not stand.
The governor commended President Muhammadu Buhari for his action towards good and credible elections in the country by ensuring that justice would be done regarding the Ondo election.
He however debunked insinuations that he went to see Buhari as a prelude to crossing over to the All Progressives Congress, APC.
He explained, "I had to see the President in my capacity as the Chief Security Officer in Ondo State, briefing the Chief Security Officer of the country on the need to allow justice to prevail, and Mr. President gave his commitment to ensure that justice will be done and I have no reason to doubt him.
"Justice will stand and Jegede will contest the election. Election can't take place without the PDP.
"We know those that are behind this. It is beyond the President. Their thinking is that without Jegede, they will win but their plan will fail, " he said.