Imo Chief Of Staff And The Dance Of Tortoise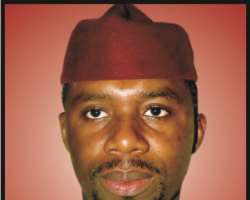 Inaki Urdangarin they say is not a good man . His name, Inaki Urdangarin turned from "ideal son-in-law" to the black sheep of Spain's royal family when he landed in court in a corruption case. He had his little ways. And sometimes no one spoke to him for days . He was wasteful, very fond of wild beasts but very unconcerned about people's welfare. He was also a promoter of warfare and wickedness. Most frequently regarded as "the godless one". In 2011, the Noos case burst into the open with Urdangarin, and others suspected of siphoning off money paid by regional governments to the institute for staging sporting events and conferences. He denied any wrongdoing, but the scandal led to a spectacular fall from grace and even precipitated the emotional abdication of King Juan Carlos in 2014.
I think one man today in Imo state of Nigeria is following the footsteps of Urdangarin of Spain. This man has put the role of newspapers and Journalists in holding politicians to account under threat as never before. In 2015 he unleashed his thugs on a Journalist by name Greg Okey Nwadike. Greg was brutalized to a state of coma. He was accused of being sponsored by the opposition to riot against the government of Imo State since he was wearing a TAN T-shirt to cover student protest in the state. Wearing TAN T-shirt became a crime only in Imo.
This same man stopped the placing of government adverts in some newspapers in the state accusing them of anti-government bias in there reporting. Several journalists in Imo have received threats from his goons over the last years. When an Owerri based Newspaper (Community Watchdog) published an investigative report detailing how a cook attached to this man disappeared into thin air with over N5 billion out of the N26.8 billion bail-out fund released to Imo State by the Buhari administration it expected authorities to investigate. The journalists did not expect that they would become the targets of persecution and threats to life. The money was allegedly stashed and hidden inside the man's bedroom waiting for when it would be convenient to launder it abroad, for safe keeping. This man who is the Chief of Staff to the governor of Imo State as well as his son in-law sent over 20 armed policemen to the office of Community Watchdog Newspaper in Owerri arrested its publisher Mr.Precious Nwadike and handcuffed him like a common criminal . Precious was charged to court for criminal defamation the next day.
That is the same man whose goons say he is chosen by god to be the next governor of Imo. He is not governor yet but he wants to crush everyone. Omase o! What makes him the special one "elected by god" as the next governor of Imo if I may ask? Is it because he is the governor's son in-law? Is it because he has some coins? How did this dud get his wealth in the first place? He was one of those who applied for the Ohakim 10,000 jobs in 2010 but was not successful. In 2011 he became a multi millionaire. How? Each year, many of these thieves line up to receive awards and other accolades. Everywhere you look, they are being invested with one stupid 'chieftaincy' title or another.. They attend state banquets and shake the smooth, soft hands of the high and mighty. They are being invited regularly to chair high profile events where brilliant sermons are delivered on integrity, transparency, anti-corruption and good governance – citing their exceptional industry and sterling honesty as worthy of emulation by today's youths. Inukwa!
Rather than tell us what happened to our bailout fund Uche Nwosu wants to frighten the press. He preaches the catechism that all power comes from God, but takes care not to warn us that he now regards himself as the god who must be obeyed.Someone should tell him to stop fighting the press He should know that when a man is placed in the public arena he must be prepared to accept public criticism. His lawsuit against the press undermines Governor Okorocha's commitment to press freedom. Governor Okorocha has publicly subscribed to a vision in which press freedom is respected in Imo State and Nwosu's action which remind us of the dark days of military jackboot absolutism should be condemned by all. What he should have done is to take the missing bailout fund newspaper stories as a challenge to put more effort in his work as a public officer or write a rejoinder in response to the story but he chose to throw caution to the wind .Imo State cannot move forward unless its media can report freely on issues of state and national importance.
Nwosu cannot win the case of criminal defamation against Community Watchdog Newspaper. He must establish not only that the stories about him in the paper were not true, but also that they were not published for the public benefit. He will also let the court know the criminal intent of the paper to extort money or other property from him . Truth is an absolute defense to defamation. Remember that defamation is a false statement of fact. So, if the statement was accurate, then by definition it wasn't defamatory. Mbok! I think even ICPC report told us that bailout fund was diverted in Imo. Nitori Olorun! Make I talk am ! Leave Community Watchdog Newspaper alone!
If he insists on this wild goose chase he should note that it is duty of the Court to ensure the protection of the fundamental rights of the citizens, and, in appropriate cases, to balance the conflicting interests between freedom of expression and the protection of reputation. The courts would normally proceed from the principle that the right to freedom of expression, being a fundamental human right, must be given preferential protective consideration; and any claim to its restriction or derogation must be construed strictly. He must satisfy the court that he is entitled to invoke the exception to restrict or curtail the Community Watchdog's fundamental right to freedom of expression. He will bear the burden of proving the requisite ingredients constituting the tort of defamation.
The fight against Precious Nwadike is an attempt to deny the media its watchdog role . Nwosu has moved against free speech in Imo State. He has no respect for press freedom. He will not succeed in his plot to cage the press in Imo. We say No to press intimidation. Intimidation cannot frighten the press away from the truth. We say NO to human rights violation by those in authority and their agents. It is ridiculous that while some public officers who are expected to be above board but perpetrate brazen corruption are allowed to live like kings, media men who are demanding sanity are slammed with lawsuits and dungeons of intimidation and repression. This again shows that despite the so-called emergence of civilian rule since 1999 and despite the struggle of the working and poor masses against dictatorship and for good governance, some public office holding vampires who never contributed to the termination of military dictatorship are the ones throwing the masses to the gallows. That we are still witnessing a clear attack on the media in this country as clearly displayed by Nwosu is a sign of bad omen for the poor working masses of Nigeria.
We can't and we won't forget that to be a journalist is not only a great responsibility, but also a high honour and not a high crime. I call on Imolites to reject the political repression against the media by Uche Nwosu. I call on Imolites to demand the total withdrawal of all trumped-up political motivated lawsuit leveled against Precious Nwadike and Community Watchdog Newspaper . I call on the Judiciary not to allow it to be used by temporary power holders to unjustly victimize the press. The people are watching.
-Kenneth Uwadi writes from Mmahu-Egbema, Imo State, Nigeria
Disclaimer:

"The views/contents expressed in this article are the sole responsibility of the author(s) and do not necessarily reflect those of The Nigerian Voice. The Nigerian Voice will not be responsible or liable for any inaccurate or incorrect statements contained in this article."
Articles by Kenneth Uwadi