Reps to investigate arms procurement panel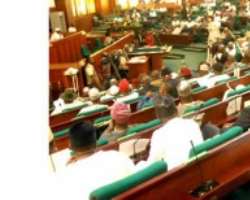 The House of Representatives, on Thursday, put machinery in motion to investigate the committees set up by the Presidency and office of the National Security Adviser (NSA) in respect of arms procurement.
The House has subsequently mandated its committees on national security, intelligence and public procurement to investigate the activities of the committee and report back to the House within four weeks for further legislative inputs.
It will be recalled that a 13-member Presidential Committee on Audit of Defence Equipment Procurement (CADEP) was set up to investigate the $2.1 billion arms deals involving the former NSA, Sambo Dasuki.
Moving a motion of urgent public importance, Honourable Chris Azubogu said during the inauguration of the committee on  August 31, 2015, they were mandated to conclude the assignment within 90 days.
He equally said: 'a similar committee was set up by the office of the National Security Adviser on October 19, 2015 with a similar mandate and had covered more number of companies which had submitted its report on February 26, 2016. The committee was able to verify more than 300 companies as indicated in the submitted report on January 26, 2016.'
The lawmaker then noted that the committee, after the expiration of the number of days given it, had requested for an extension of two weeks to conclude the assignment, which was granted.
To this end, he said up till now, the committee had not submitted its report. This, he said, had led to non-payment to companies that had executed various jobs/projects leading to untold hardship on the contractors, vendors and workers.
The lawmaker said the committee failed to 'adhere to the guidelines on remuneration of non-executive and part time chairmen, members and directors of the governing boards of Federal Government parastatals, agencies and commissions,' of  October 9, 2015 and  October 23, 2015, urging for strict adherence to payment of hotel accommodation for such members; and the committee, based on the circular, should only sit four times a year.'
He, however, raised the alarm that,  'committee members have been accommodated at government's expense without commensurate result, in line with the Federal Government policy at reducing cost of governance, it has to be corrected.'
When the motion was put to vote by the Speaker, Honourable Yakubu Dogara, it was supported by majority of members.