Femi Fani-Kayode: When the Fight against Corruption Goes Personal By Jude Ndukwe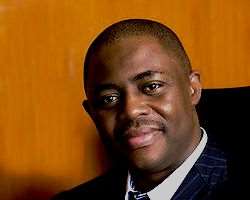 The Economic and Financial Crimes Commission, EFCC, has come under intense scrutiny and criticism from citizens in the last few days following a series of arrests of high-profile Nigerians especially Femi Fani-Kayode in manners that are alien to our laws and that cast the Commission as an organization operating without recourse to the Act establishing it.
There seems to be no other time when Nigerians agree more than now that the EFCC has turned itself a willing tool in the hands of some powerful cabal who are traversing our landscape like colossal beings who must not be opposed or disagree with; a set of people who seem to enjoy the fact that they have gradually set aside our constitution in their blind bid to undo their perceived political enemies or those who hold different views from theirs.
This fact must have hit the EFCC chairman in the face when he put up a spirited effort to defend his handling of the so-called corruption cases during the visit of His Lordship, Matthew Hassan Kukah, the Catholic Bishop of Sokoto Diocese. To save himself from relentless criticism coming the way of the EFCC, Magu used the opportunity of the bishop's visit and the media attention it enjoyed to declare that the fight against corruption as currently being handled by his organization is not personal. Hear him: "It is not personal. This is all about Nigeria and making it better".
If Magu thinks he can cajole Nigerians into thinking that this fight as it is currently being fought is all about Nigeria, then he should look for more credible medium to listen to what a majority of Nigerians are saying concerning the so-called fight.
Magu and his team in EFCC should be reminded that the overwhelming opinion of Nigerians on this matter is that the anti-corruption crusade has since been reduced to an anti-corruption charade; they think that the charade has not only gone personal but has since also gone political.
Institutions like the EFCC are a creation of our laws. The least expected of those who are fortunate to be appointed to head them is to be above board at all times in the discharge of their responsibilities without fear or favour and not allow their personal interests to get in their way of duty.
However, with recent events, it is obvious that the EFCC has progressed from being an Economic and Financial Crimes Commission (EFCC) to an Enemy Fighting Citizens Commission (EFCC). Or else, how could one explain the fact that Chief Femi Fani-Kayode was re-arrested on October 21, 2016, at the premises of the Federal High Court, Ikoyi, Lagos, without a warrant of arrest as required by law, and have since been kept in detention for two weeks now and still counting even when our laws say no security agency has the right to keep any citizen in detention beyond 48 hours.
Having previously abused the usefulness of detention orders with which they used to keep him for over two months in May this year, it is obvious the EFCC knows the futility of another attempt to obtain such questionable orders from the courts, hence, they have taken the laws into their hands to keep him perpetually in detention.
This is where the fight against corruption has regressed into a personal fight. The mantra of it being about Nigeria is just a smokescreen. If it was about Nigeria, the most basic requirement of Nigeria's laws on matters like this would not have been circumvented.
The reason why the noble fight against corruption has been demeaned and vitiated by the foremost agency saddled with that task is not far-fetched. There is a general consensus that this fight is a disguise in the clampdown on the country's foremost opposition party and its members, it is a tool for silencing vociferous opposition forces and voices like that of Fani-Kayode.
In the current dispensation, there are only very few members of opposition who dare speak their minds on national matters no matter whose ox is gored, among all these, Fani-Kayode seems to be the only one who speaks without the cover of immunity, yet, he would not allow himself to be cowed nor stopped.
A majority of Nigerians, the downtrodden, the oppressed, the voiceless, minorities everywhere, irrespective of their ethnic background, political affiliation and religious affinity, have found a defender in Fani-Kayode. He gives Aso Rock sleepless nights with his writings that reverberate and pierces the soul of the oppressor while soothing the soul of the victims.
In order for them to find peace and sleep even if only for a short while, they came up with the grand design to do away with our constitution in order to deal with just one man. Just like they did to the justices and judges recently, just like they are eroding the legislature, just like the thousands of innocent souls they mowed down in cold blood in Zaria last year in their inglorious clash against the Shiites while keeping their leaders in detention illegally for so long; just like they murdered harmless and armless agitators of Biafra on several occasions in the South East, just like they have refused to obey several court orders granting Sambo Dasuki and Nnamdi Kanu bail, just like they have arrested and harassed bloggers and social media activists, their intention is to cow all of us and gag us so that we would no longer have a voice while they run the country merrily aground.
We know their true intention is to keep Fani-Kayode out of circulation for as long as possible. This is why even when he has been served his charge and he is due to appear in court on November 10, as confirmed by the commission itself, they would rather keep him in detention illegally instead of doing the right thing of allowing him to attend court proceedings from home since he is already on bail both from EFCC and the courts, and has shown more than a cogent commitment to face his traducers in court.
But because the issues involved have become so personal, what Magu and his likes are simply telling us is that civility, institutional processes, and our laws can go to hell as long as they achieve their ignoble goals of running a country without divergent views. We do not know how long this will last but what we already know is that time is ticking on the Goliaths of our land.
[email protected] ; Twitter: @stjudendukwe

Disclaimer:

"The views/contents expressed in this article are the sole responsibility of the author(s) and do not necessarily reflect those of The Nigerian Voice. The Nigerian Voice will not be responsible or liable for any inaccurate or incorrect statements contained in this article."
Articles by Jude Ndukwe