OIL DEMAND GROWING AT 900,000 BPD – EL-BADRI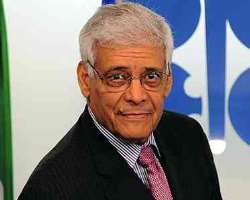 Secretary General, Organisation of Petroleum Exporting Countries, Mr. Abdalla Salem El-Badri
Global oil demand is growing again at an expected modest rate of 900,000 barrels a day for 2010, particularly in developing countries, following massive monetary and fiscal stimulus packages, the Secretary General, Organisation of Petroleum Exporting Countries, Mr. Abdalla Salem El-Badri, has said.
While delivering a speech at the 9th Arab Energy Conference in Doha, Qatar, on Tuesday, he said prices were at a reasonable level that was satisfactory to both producers and consumers.
He said the changes that the energy scene had witnessed over the last few years had been dramatic, explaining that they stemmed from two main causes; the global financial crisis, and the subsequent economic downturn, and the inefficient functioning of oil markets in terms of price discovery.
According to him, the years 2008 and 2009 were the first time since 1981 that global oil demand declined in two successive years, of which the cumulative impact was a fall of 1.8 million barrels per day.
'The price of a barrel of crude lost almost $100 in less than six months from mid-2008. The demand for OPEC crude fell sharply and the resulting supply adjustment by OPEC member countries led to a significant increase in unused production capacity. Today, this figure is six million barrels a day,' he added.
El-Badri said natural gas demand also declined, at a time when conventional and unconventional gas supplies were increasing, which led to a sharp downward trend in gas prices.
He pointed out, the financial crisis, the economic downturn and lower petroleum prices have had visible adverse effects on countries. This has been through many channels, such as trade, declines in the value of stock markets and investments portfolios values and lower economic growth.
'Regarding oil exports revenues, the crisis demonstrated once again the positive role that OPEC plays as a producer organisation in contributing to stable oil markets, for the benefit of all.'
The OPEC secretary however, said the risks still remained high because they related to the high levels of public debt in some Organisation for Economic Cooperation and Development countries; the unsustainable rates of unemployment in many places and credit tightness and the still fragile financial system.
Others are the shaky recovery in private demand that is not yet sufficient to fully support economic expansion; and the associated government support exit strategies.
'We therefore need to remain vigilant and avoid complacency,' he maintained.
He said oil markets had over the past few years been characterised by excessive volatility and large price swings, adding that many recognise that the emergence of oil as a financial asset traded through a diversity of instruments in futures exchanges and over-the-counter markets might have helped fuel excessive speculation to drive price movements and stir up volatility.
'Fortunately the oil market situation has steadily improved over the past year. The more reasonable price levels we see today support investment to provide the much-needed future production capacity.
'Shelved projects are now being restarted, there is a noticeable rise in activity and in general, there is a more optimistic mood than a year ago. It means we can now return to focusing our attention on the important longer term energy challenges,' he noted.
The OPEC secretary general maintained that economic growth, expanding populations and higher standards of living meant that energy demand was set to rise in the future, despite significant improvements in energy efficiency.
He said OPEC expected energy use to increase by more than 40 per cent by 2030, according to its World Oil Outlook reference case, adding that fossil fuels, and in particular, oil and natural gas, would continue to satisfy most of the world's energy needs.
El-Badri said, 'This means that the Arab world, with considerable petroleum resources, will continue to play a leading role in the energy scene, far into the future.
'OPEC's World Oil Outlook shows that as early as 2020, demand for OPEC crude could be as low as 29 million barrels per day or as high as 37 million barrels per day.
This translates into an uncertainty gap for upstream investments in OPEC Member Countries of over $250bn. There is, therefore, the very real possibility of wasting financial resources on unneeded capacity.'
He said that these daunting uncertainties stemed in part from consuming countries announcing policies that were geared towards reducing oil demand, subsidising alternatives and putting heavy tax burdens on the use of oil.
According to him, inconsistent, unrealistic and wishful-thinking policy announcements could only provide the wrong signals to markets and investors, creating a lack of certainty and predictability that undermines the ability of the oil industry to invest to meet future energy demand.
Comments :
Print Article
Send to a friend
Post Comment
Share on Facebook
blogs
Most Hits
ADVERTISEMENT
Custom(search)
My Punch
mynews.com Feedback
NEWS
NDDC commissioner denies …
Students blame 'do-or-die' …
ICPC denies witch-hunting …
Entrepreneurship education: …
Street fighting: NJC retires …
POLITICS
Atiku: Still in search of a …