Ondo Coalition for the Advancement of Democracy (OCAD) 
Ondo Protests: Mimiko not Involved, We merely Exercised our Rights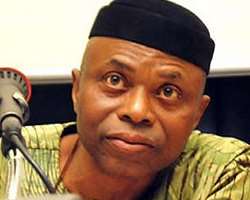 Reports have been making the rounds particularly in some online news media notorious for their hatchet jobs against truth and honour that the recent protests that took place in parts of Ondo State as a result of what we consider to be INEC's illegal substitution of the name of the people's preferred candidate, Eyitayo Jegede, SAN, of PDP, with a certain Jimoh Ibrahim, was instigated by the current governor of the State, Dr Olusegun Mimiko.
We wish to state unequivocally and without fear of contradiction, that the governor had no hand in the protests which were a spontaneous reaction to the injustice meted to the State by INEC working in conjunction with collaborative enemies of the State.
We are quite amused by the fact that anyone would think that the people of Ondo State would wait until someone of high personality prods them before they express their total rejection of some riffraff bent on forcing himself on the state as a governorship candidate riding on the shoulders of divisive and hateful elements who are well known to be enemies of the State over time.
When we received the news of that unfortunate name substitution by INEC, we immediately mobilised our members throughout Ondo for action, and because ours was a noble cause, the response and support we received from all and sundry including members of the NURTW, students, traders etc, as evidenced in the turnout, was a pointer to nothing else but the fact that Ondo people would not tolerate injustice. Nobody would become our governor through the backdoor!
Although the protest was hijacked by some unknown elements at some point, we have no doubt in our minds that it was hugely successful.
To say that Dr Olusegun Mimiko was behind the protest was not only false and malicious, but also a wicked and calculated attempt to tarnish the image of a man who for nearly eight years now has held Ondo State together in peace despite our multiple differences and diversities. In fact, but for his timely intervention through our traditional rulers, security personnel and other stakeholders, the situation could have been worse.
Let us also use this opportunity to warn that we will not succumb to the blackmail of the forces bent on fomenting trouble in Ondo State by attempting to impose on us a governorship candidate whose records of failure in every area of his life is legendary. We shall continue to resist such forces until the will of the people prevails.
Thank you.
Signed:
Obafemi Taiwo Kunle Adeyemi
Coordinator Publicity Secretary