Fayose: Nigerians Votes Can No Longer Count, Says; "INEC Has Merged With APC"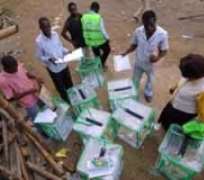 Ekiti State Governor, Mr Ayodele Fayose has said that the Independent National Electoral Commission (INEC) under the present All Progressives Congress (APC) led federal government has demonstrated to Nigerians that their votes will never be allowed to count any longer, adding that; "INEC has become an extension of the APC and Aso Rock Presidential Villa."
Governor Fayose, who was answering questions on an Orange FM, Akure programme on Tuesday, lamented that "democracy in Nigeria has suffered a serious setback", but added that "If the cabal in the APC led federal government believed that they have defeated the People's Democratic Party (PDP) through their manipulation of the electoral process, they should be reminded that they can never defeat the people."
He said; "This is not democracy. INEC said they did not recognise the Ibadan primary election that produced Jimoh Ibrahim, now the same INEC says he is the candidate. What is it that has changed? "Isn't it now safe to say that INEC was actually bribed $1m to allow Jimoh Ibrahim to play the spoiler role that he is playing?
"Isn't this development a vindication of my position that other political parties and stakeholders are now contesting election against INEC?" The governor however urged the people not to lose hope despite what he called the hanky panky in the judiciary, saying; "You cannot hide behind a finger, this is a phase that will pass, 24 hours is a long time in politics."
The governor said INEC was now totally under Mrs Amina Zakari, whom he said now acts as the managing director of what he called APC-INEC Speaking on the $29.9 billion loan proposed by the federal government, Governor Fayose said; "That $29.9 billion loan will ruin Nigeria permanently." He said; "This government met $28.4 billion in our Foreign Reserve and has depleted it to $24 billion.
"The same government that has reduced our foreign reserve to $24 billion is now going to borrow $29.9 billion when the country is already indebted to the tune of $11 billion and it is servicing debt with about 30 percent of its monthly income. "If with $11 billion debt, 30 percent of the federal government income is being used to service debt, how much will be used to service debt when another $29.9 billion debt is added? How can Nigeria survive when more than 75 percent of its income is being used to service debt?"
While reiterating his support for Mr Eyitayo Jegede as the PDP candidate in Ondo State, Governor Fayose said; " I am a member of PDP, Olusola Oke is a friend and brother and someone I respect, it will amount to anti-Party for me to come here and campaign for a member of another party."
On the federal government's anti corruption war, Governor Fayose described the EFCC as an irresponsible organization, saying; "EFCC is not a responsible organisation, that's why they try people on the pages of newspapers."