Adulterated Kerosene Explodes…..Kills Two, Injured Three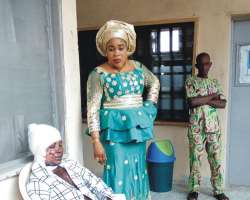 A spate of explosions resulting from use of adulterated kerosene has left two children dead and three others including a three month old baby severely burnt.
The two incidents occurred on Wednesday and Friday last week in two communities of Ikono Ibom Clan in Uyo Local Government Area, resulting in loss of lives and injuries.
Mr. Nsikak Michael, a keke rider and father of three suffered severe burns from this explosion, which also resulted in the death of two of his children.
According to Nsikak who also operates a small poultry farm near his house in Ikot Enyingne Ikono recounted, "I bought kerosene from a filling station along Idoro road (name withheld) as I closed from my Keke business. Upon getting home, I decided to light up the lantern in my poultry farm to keep my birds warm but needed to top up the kerosene in the lamp as it was soon going off. So I came out of the poultry farm just as my kids followed. As I attempted to light up the lantern there was a loud explosion with a big flame of fire which left me unconscious".
One of the two children died few hours after, while the other died the following day at the University of Uyo Teaching Hospital where they were rushed to treatments.
The Chairman of Uyo Local Government Transition Committee, Barr Mfon Ben and Wife, Bridget visited the victim Mr. Nsikak who lies critically ill at the Hospital as a mark of concern and love for the people.
At the hospital, another woman from same community with her three months old baby was also victim of kerosene explosion.
Barrister Ben condoled with the families over such gruesome incidents and advised members of the public to be cautious and vigilant. He assured that the perpetrators of such unwholesome act would soon be brought to book.