You are one of the 25 persons I made billionaires, Obasanjo tells Africa's richest woman Alakija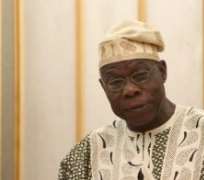 Former President Olusegun Obasanjo said on Saturday in Lagos that Mrs Folorunsho Alakija, Africa's richest woman by Forbes reckoning, was among the 25 billionaires he made during his tenure as President.
Obasanjo, according to NAN report, stated this at the 2016 Tony Elumelu Foundation Entrepreneurship Forum.
The former president was reacting to an allegation by Alakija at the event, that the Obasanjo administration frustrated her effort when she ventured into oil business.
 He however did not name the 25 billionaires.
"My delight is to be able to create Nigerian billionaires. I always say it proudly that my aim when I was in government was to create 50 billionaires from Nigeria. Unfortunately I failed, because I created only 25," he explained.
Obasanjo, who was responding to  an earlier remark by the Minister of Information, Alhaji Lai Mohammed that the federal government had taken steps to improve the business environment, Obasanjo said Nigerians and investors "want to see the results."
The former president urged the federal government to ensure that they create conducive environment for entrepreneurs to succeed in Nigeria.
" You have to create a conducive environment for people who want to do business here. We have to make them wanting to come to Nigeria and if we cannot do that, we have failed. If you say you are doing that (referring to the minister of information), let us see the results," he said.
According to him, "A situation where somebody wants to come to Nigeria to invest and it takes almost six days to get visa is not proper. In other countries, they would get visa at the airport. We need to be able to register a company at just one point. We have not taken advantage of all the opportunities we have to support our SMEs to be able to produce and sell outside our shores. And if we don't do a lot of that, those of you (the TEF Entrepreneurs) may be frustrated.
"Let me tell you what I know. Agric and agri-processed products from Nigeria cannot enter into the United States. Even yam from Nigeria have to go through Ghana before going to America. You know why? There is a certification that is required for our agric produce to enter, which we don't have. Simple thing, we don't have, but Ghana has it. And it doesn't take much to put that in place. Unless we have it, we can't export these items to America."
He however urged the young entrepreneurs to be resilient, saying it would not be a bed a roses.
Mohammed had earlier reiterated the commitment of the Federal Government to removing the  bureaucratic and other impediments to registering new businesses as  part of efforts to encourage entrepreneurs and facilitate investments  in the country. The Minister of Information and Culture, Alhaji Lai Mohammed, gave the  assurance on Saturday at the 2016 Tony Elumelu Foundation (TEF)  Entrepreneurship Forum in Lagos.
"To encourage entrepreneurs like you and also bring in more  investments, the Administration is delivering in its commitment on the  ease of doing business.
"In fact, the President has approved the establishment of the  Presidential Council on Ease of Doing Business, in order to remove  unnecessary red tapes and other impediments, thereby facilitating  registration of businesses, clearing of goods from the ports,  obtaining visa, paying taxes and obtaining land titles, among  others," the Minister told the Forum, where he was panellist  alongside President Ernest Bai Koroma of Sierra Leone, former Nigerian  President Olusegun Obasanjo, former Prime Minister of Benin Lionel  Zinsou and Africa's richest woman Folorunso Alakija.
He said present Administration is also taking measures to reduce  fiscal and forex imbalances, boost dollar liquidity, curb inflation,  lower interest rate and ensure lending to real sector.
Alhaji Mohammed also told the Forum, organised for the 1,000 budding entrepreneurs from across Africa under the TEF, that earlier this year, the Administration launched a 10 billion Naira Youth Entrepreneurship Support (YES) project to empower youths with loans to start businesses, as part of the job-creation initiatives of the Administration. It is expected that the YES project will create about 36,000 jobs annually.
"With insecurity and corruption also being tackled decisively, the enabling environment is being created for businesses to thrive in the country. We hope, when the time is ripe, young entrepreneurs like you will take advantage of these opportunities," he said.
The Minister said the Administration is moving the country away from a mono-product economy to a diversified one, and in the process opening up great opportunities for businesses.
"With the crash in oil prices, which has negatively impacted on our economy, we are left with no choice but to explore new possibilities.  The areas we are targeting include agriculture, solid minerals and the  creative industries. We are also engaging in massive infrastructural  development.
The Minister congratulated the 2016 Tony Elumelu Foundation  Entrepreneurs, saying the fact that they all emerged after going  through a rigorous selection process speaks to their determination and  passion to succeed.
The 2016 TEF Entrepreneurship Forum is the second annual round of the  US$100 million Tony Elumelu Entrepreneurship Programme (TEEP) for  emerging African entrepreneurs.