Win N50,000 In Geniuzz' "Firewood Acapella Contest"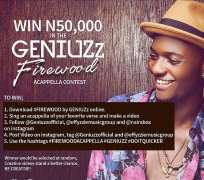 Effyzzie Music's Geniuzz has announced the "Firewood Acapella Contest" as a medium to give away cash prizes to fans and music lovers.
The pop star will be hosting the contest which revolves around his budding smash single "Firewood", on Instagram.
HOW TO WIN?
Download #Firewood by Geniuzz online
Make a video of you singing an acapella of your favourite verse or chorus of #Firewood by Genuzz
Follow @geniuzzofficial, @effyzziemusicgroup and @Nairabox on Instagram
Post the video on Instagram; mention @geniuzzofficial and effyzziemusicgroup and post the hashtags #Geniuzz #FirewoodAcapella #DoItQuicker
Winner(s) would be selected at random. Creative videos stand a better chance, be creative.
DOWNLOAD/STREAM "FIREWOOD"
"FIREWOOD" ON MYNOTJUSTOK - https://my.notjustok.com/track/126354/geniuzz-firewood
"FIREWOOD" ON ITUNES - Firewood - Single by Geniuzz on iTunes