How Has Buratai Enforced Discipline?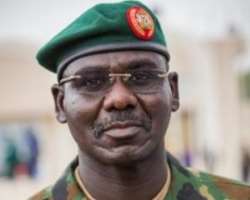 There is little doubt that President Muhammadu Buhari has had a formidable military background during his years in service as attested to by no less a person than Lieutenant General Theophilus Danjuma.
In a foreword he General Theophilus Danjuma penned for the official biography of Muhammadu Buhari written by an American biographer Mr. John N. Paden entitled "Muhammadu Buhari: The challenges of leadership in Nigeria", these acclaimed sterling qualities were highlighted.
General Theophilus Danjuma had written thus: "The military was not his first career choice, but it was the military that helped to mold his outstanding character and his competitive spirit. In the course of his brilliant military career, Muhammadu earned a reputation as an officer of great personal discipline, competence and valor, driven by a deep sense of patriotism and an abiding concern for the welfare of his troops".
Danjuma continued thus:"It is now evident that these qualities have helped him enormously, sharpening his capacity to adapt to needs of his Country and to make a seamless transition from an autocratic leader to democratic one…"
General Theophilus Danjuma in general terms characterized the then Major General Muhammadu Buhari as a no nonsense top General.
Hate him or like him, this is the sum total of how most Nigerians evaluate Muhammadu Buhari's military career.
On May 29th 2015, when President Buhari became a democratically inaugurated President, he began searching for a no-nonsense top military General who would enforce a regime of professionalism and efficient discipline amongst the ranks and file and the officers' cadre of the Nigeria Army.
When he finally settled down for Lieutenant General Tukur Buratai as his choice for the tough and rigorous job as the Nigerian Chief of Army Staff, the general expectation was that service discipline and professionalism would become the twin virtues that should signpost the administration of the Nigerian Army in the current democratic dispensation.
Has Lieutenant General Buratai successfully enforced service discipline since he was appointed into office?
This question would be answered after we flip through a beautifully written and profoundly intellectual book by a military lawyer whom I know very well before he passed onto the great world beyond- Brigadier General T.E.C. Chiefe (Rtd) Ph.d titled : "Military law in Nigeria : Under democratic Rule".
General Chiefe who was Director of legal services in the Nigeria Army headquarters wrote as follows: "The military in a democracy is unique in that the most physically destructive power of the state is concentrated in the hands of a relatively small number of unelected government officials".
"This unique status inevitably leads to a large number and variety of laws designed not only to control the armed forces, but also to assist in ensuring that the values of broader society are maintained within the social fabric of military."
The Military General and author of the book aforementioned also pointed out to the imperative of a nation to build a military institution that would be subservient to the constitution and the democratic tenets.
His words: "As postulated by Huntington, the military profession like other professions has the major characteristics of expertise, responsibility and corporateness."
General Chiefe stated that responsibility has been explained by Janowitz to mean prescribed ethics and standards of discipline which members of that profession must maintain and prescribed sanctions for their breach.
Members of the military in his judgment are expected to be highly disciplined and under the doctrine of compact, provisions in the law are made for the appropriate sanctions for any deviations from ethical norms.
The doctrine of compact according to General Chiefe, was further explained by Justice Willies in Dawkins Versus Lord Rokeby when he said thus: "But with respect to persons who enter into the military state, who take His Majesty's pay and who consent to act under his commission, although they do not cease to be citizens in respect of responsibility, yet they do by a compact which is intelligible and which requires only the statement of it to the consideration of any one of commonsense, become subject of military rule and discipline".
As a person, Lieutenant General Buratai since coming to office had had to confront ethical challenges associated with claims and allegations of impropriety but on the major plank of the allegation of financial indiscipline, the Nigerian government under President Buhari has given him a clean bill of health specifically on the issue of ownership of offshore housing assets.
Buratai has equally effectively put the available legal templates to enforce regulatory discipline amongst his operatives even as he has practically set up structures to coordinate smooth civil cum military relations and the mainstreaming of the respect of the fundamental human rights provisions in all internal military operations.
It is yet to be conclusively affirmed that this human rights desks have successfully resolved many of the emerging human rights violations such as cases of extralegal killings of civilian, but the Chief of Army Staff has never shied away from deployment of the relevant legal frameworks to sanction indicted military operatives.
There are ample examples to justify the above affirmation.
For instance, in early October 2016, a Nigerian solider was demoted and jailed for three years for maiming a minor. Scores of soldiers have been dismissed for undermining the counter terror war.
Speaking specifically about this indicted soldier who physically assaulted a minor in Maiduguri, Borno State, we read that military tribunal sitting in Maiduguri, Borno state, sentenced a staff sergeant in the Nigeria Army to three years behind bars for causing permanent disability of a ten-year-old boy.
The convict, Umar Sule, who has served 26 years in the army, was also stripped of all ranks and demoted to a private by the tribunal presided over by Olusegun Adeniyi, a brigadier-general.
Mr. Sule, according to the charge sheet presented to the military court martial, inflicted a permanent injury on Muhammed Sale by tying him up for stealing his N2000.
The tall and heavily built demoted officer admitted before the court martial that he tied the two hands of the boy to a poll for over seven hours.
Due to the torture, Sale's two wrists suffered gangrene. The condition is a premature death of cell caused by lack of blood flow.
Doctors later had Sale's jaundiced right hand amputated. The other, though paralyzed, was partially salvaged by grafting of skin from the victim's lap to patch it up.
The National Human Right Commission took up the matter by petitioning the Nigerian Army on the conduct of the soldier.
The Army responded by arraigning Mr. Sule before the court martial, which was set up on August 11 to try miscellaneous offences under the military's Operation Lafiya Dole.
The court found the accused soldier guilty of two charges of "unlawful assault, and disobedience of standing order of the Nigerian armed forces by entertaining a minor at his guard location".
Delivering the ruling, President of the court martial, Brigadier General . Adeniyi, said:
"Having found you guilty of the charges against you, and having listened to the prosecution counsel urging this court to treat you as a first offender, and this convict's touching plea to litigation, we have also looked at various punishments provided by both section 104, sub-section 2B of Armed Forces Act CAP A20 Laws of the Federation 2004, as well as section 119 of Armed Forces Act CAPA20 Laws of the Federation 2004.
"This court also considered the need to ensure discipline in the system. This court therefore sentence you as follows; on Count one, three years imprisonment; on count two, reduced to private. This sentence is however subject to confirmation by the confirming authority as provided by Section 141 Sub-section 2 and Section 152, Sub-section 1A of the Armed Forces Act, CAP A20 Laws of the Federal Republic of Nigeria 2004".
The representative of the NHRC at the trial commended the Nigeria Army for ensuring that the victim got justice via a transparent trial.
She said the NHRC office would help the victim "who now has to live with permanent disability for the rest of his life" to pursue compensation through the civil court.
"We commend the Nigeria Army for a job well done, because we brought the complaint to them in March, 2016, and by October, they are done with the case.
"In respect of getting compensation for the victim, we will communicate with our head office which has the powers to take that decision; but we are going to send our recommendation to ensure that this is achieved".
She also commended the General Officer Commanding of 7 Division, Nigeria Army for offering to sponsor the boy's education.
The father of the boy, Usman Muhammed, narrated to journalists at the venue of the tribunal the events that led to his son's brutalization.
"My son, who used to go to the soldiers' base for errands, was invited on that fateful day by Sergeant Sule who said his N2000 was stolen. My son confessed to him that he was the one that took it, and that he should forgive him.
"Sergeant Sule asked my son to wait for him to return from the Friday mosque. When he returned from the mosque, he tied up his two hands to an electric pole, and left him there for over seven hours. He tied his hands with a rubber bound and continued to flog him for that long period.
"When he finally left him after hours of plea, the two hands had been damaged. When we took him to the hospital, we were told that the right hand had gone bad and had to be amputated. The left hand too was almost beyond repair, they had to peel off skin from his leg to patch it up. As it is now, the boy has lost two hands due to the action of a soldier", said Mr Muhammed.
He said he was pleased with the judgment of the court martial, even as he worried that his son still needed support now that he would have to live the rest of his life with no hands.
The victim's mother, Amina Usman, said her son now depended on her to feed, bathe and even clean up after using the toilet.
The tribunal adjourned to further dispense justice in similar matters of service indiscipline. There are a plethora of cases of gross indiscipline that have been satisfactorily handled since Buratai came on board which has earned him the nickname and sobriquet of the 'ultimate enforcer of service discipline '. But he already has his job of bringing sanity and restoring professionalism fill up to the brim even as most Nigerians still point to cases of gross human rights violations by soldiers that are streaming on many online and new media platforms. This seemingly acclaimed no nonsense soldier's soldier must continue to enforce discipline without fear or favour in line with the due process of the law and in compliance with best global practices.
As I put pen to paper, the spokesman of the Nigerian Army Colonel Sani Kukesheka Usman issued a statement disclosing the arrest of 30 soldiers, policemen, others over sabotage.
Hear him: "Please be informed that the ongoing investigation on suspected Boko Haram terrorists' collaborators and saboteurs in the fight against terrorism and insurgency has led to the arrest of nine more persons over the last 24 hours, thus bringing the number to 30.
"This comprises two officers, two soldiers, two policemen and 24 civilians. Many more suspects would be arrested and prosecuted based on evidences against them and level of culpability," the Army said.
Lieutenant General Buratai should investigate the extrajudicial execution by soldiers of a professional footballer in the Nigerian professional league by name Mr Joseph Izu who was killed whilst he was in his Bayelsa State country home to mark his off seasonal break. Writers and observers will in the coming days be busy evaluating how well Lieutenant General Tukur Buratai has enforced service discipline in the Nigerian Army.
* Emmanuel Onwubiko is Head of Human rights Writers association of Nigeria and blogs @ www.emmanuelonwubiko.com .
Disclaimer:

"The views/contents expressed in this article are the sole responsibility of the author(s) and do not necessarily reflect those of The Nigerian Voice. The Nigerian Voice will not be responsible or liable for any inaccurate or incorrect statements contained in this article."
Articles by Emmanuel Onwubiko