As the Dollar Sells for N500…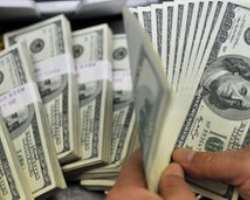 An objective evaluation and analysis of Nigeria's economic collapse points directly to President Muhammadu Buhari and his unprecedented inaction and monumental blunder in failing to appoint his ministers and form a government until 6 months after he was sworn into office. Furthermore, the delay in having a budget passed is also another factor.
To cap it up, the appointment of a seeming mediocre minister to head the finance ministry can only explain why the dollar has gotten to the Guinness Book of Records' all-time-low in the country's entire history. Can Buhari explain why it took him over 10 months to have a budget in place?
Buhari never saw the management of Nigeria in the prism of Business and concept of profit maximization. Dangote, with all his wealth couldn't afford to shut down his business for 6 months just like Buhari did with the economy of Nigeria. Any business that closes for 6 months will definitely suffer the effects of comatose, recession or long depression which are the underlying aftermath of such thoughtless and purposeless action.
There is no basis to compare Buhari to Jonathan. The latter had a well-established economic team of professional managers headed by no less a person than the Harvard-trained economist, Dr Ngozi Okonjo-Iweala. On this again, Buhari has failed woefully.
The war on corruption has not recorded any appreciable success judging by the reported meagre looted funds that have thus far been recovered. Can we now see why the naira will soon start trading for N1000 to the dollar any time soon? Do we still have a responsible government in place in this country? Isn't it time we began working with technocrats rather than professional politicians?
Let us take the familiar excuse of Buhari and his incorrigible supporters and look at it on its merits (assuming they have any). They sing it like the National Anthem that the price of oil has fallen in the international market. This is not, and can never be an excuse for Buhari to drag the economy into recession where the dollar now sells for over 500 naira.
I recall the APC "Change" campaign promised to make the naira equal to the dollar. Where is even the naira now to start with? Doesn't this mean Nigerians were better off under expert mangers like Okonjo-Iweala who managed to keep it at N199?
Still on Buharists' arguments that oil price crash is the reason for their misfortune in office, we pose that most countries do not have oil reserves, yet they have robust economies. I only hope this disappoints Buharists; but will it?
As though all these are not enough, Buhari's misinformed and obnoxious appointment of half baked, professionally deficient if not inefficient cronies have not helped matters. The appointees have proven to be ineffectual and undeserving of the positions they occupy. Maybe they will go well with the title of "Ineffectual Buffons" and know how good it looks. (Apologies The Economist).
I posit that the only magic wand and silver bullet to resuscitate the ailing economy is for Buhari to sack all the inept and unqualified cronies and replace them with people with track record of achievement in nation building and economic rejuvenation.
As the battered naira rose to N500 to the US dollar at the parallel market, some economic experts whom this writer can vouch for predicted the Nigerian currency might hit the N1000 mark by December, if the free fall of oil prices continues.
With the exchange rate of about N500 to 1 US Dollar, there are fears that things could get worse with the naira hitting the all-time record N1000 to a dollar, yet this government does not appear to have any clue on what to do. We need an expert like Okonjo-Iweala back at the helm of affairs. This is my humble opinion.
Bade Adebolu is an accountant based in Ado-Ekiti. He sent this piece via [email protected]
Disclaimer:

"The views/contents expressed in this article are the sole responsibility of the author(s) and do not necessarily reflect those of The Nigerian Voice. The Nigerian Voice will not be responsible or liable for any inaccurate or incorrect statements contained in this article."
Articles by Bade Adebolu