Presidency working hard to rescue all Chibok girls – Osinbajo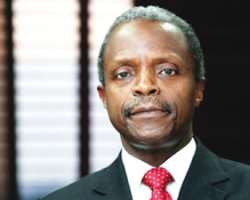 The Vice President, Prof. Yemi Osinbajo, has said the Federal Government will do everything within its powers to ensure the release of all the Chibok girls still in the captivity of Boko Haram.
Osinbajo said this on the sidelines of the African Union Summit on Maritime Security and Safety and Development in Africa in Lome, Togo recently.
At the summit, with the theme, 'Protect our Oceans,' the AU adopted a charter on piracy, illegal fishing and maritime security. It was attended by several Heads of State and Government of the AU, including Osinbajo, who led the Nigerian delegation.
'We are working hard to bring back all the girls who have been held in captivity by Boko Haram for so many years, and we will keep praying also that we will be able to bring every one of them back safely,' he said.
Following their release by the insurgents recently, Osinbajo had met with 21 Chibok girls at the Abuja headquarters of the Department of State Services on their arrival in the Federal Capital Territory.
The released girls were part of the over 200 schoolgirls who were kidnapped by Boko Haram from the Government Secondary School, Chibok, Borno State on April 14, 2014.
Similarly, the President of Togo, Faure Gnassingbe, said the adoption of the charter would 'provide a prosperous environment for Africa's sons and daughters.'
Meanwhile, a parent of one of the abducted Chibok girls, Mrs. Esther Yakubu, has said the hope of seeing her daughter, Dorcas, is very bright.
Yakubu told SUNDAY PUNCH on Saturday that she had high expectations that Dorcas would be among the next batch of 83 Chibok schoolgirls expected to be released by Boko Haram, adding that she could not wait to see her daughter.
She said, 'I pray my daughter is among the next batch of girls to be released because I can't wait to hold her in my arms again. My advice to the government is that they should give them (Boko Haram) what they want so that they can release our girls to us.
'I don't entertain any fear, I trust in God and I know that the negotiation will go on as planned and by God's grace, there will be no problem, our daughters will be released to us soon.'
Asked if she was disappointed that Dorcas was not among the released girls, Yakubu said she shared in the joy of the parents whose daughters were released last week.
She added that she was happy for them and reiterated her desire for the quick release of her daughter and other hostages.
'I did not get to meet with the parents due to a communication gap, but from my interaction with one of them, Emmanuel Mutah, they were so happy to have their daughters; I learnt they have returned to Chibok,' she said.
The Chairman, Chibok Community in Abuja, Tsambido Abana, expressed conviction that more of the abducted girls would be released in the next few weeks. - Punch.