How I was seduced by under-age student, teacher tells her story of sexual romp with 17-year-old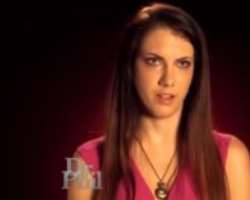 A former substitute teacher from Iowa facing sex abuse charges involving one of her students has insisted that she was the real victim in the case and accused her teenage paramour of ruining her life and career.
Appearing on the Dr Phil show Monday, Mary Beth Haglin, wearing a striking red mini-dress and matching lipstick, revealed that since her arrest in July, she has turned to stripping in order to make a living, performing under the stage name 'Bambi.'
Haglin, of Cedar Rapids, pleaded not guilty last month to a charge of misdemeanor sexual exploitation by a school employee in connection to her illicit six-month affair with a student at Washington High School. Her trial date has been set for November 14.
Scroll down for video 

Teacher speaks: Disgraced teacher Mary Bath Haglin, 24, is accused of having sex with a 17-year-old student. Haglin appeared on the Dr Phil show Monday, saying she is the real victim
The sultry 24-year-old brunette told Dr Phil McGraw that the boy had seduced her with fawning love notes written on Post-Its and twisted her brain into accepting their forbidden love affair, until she became convinced that the pair were in a real relationship, which she could keep a secret.
'He did so with such intelligence and such an elevated vocabulary that i was completely duped by the whole facade,' Haglin said on the show.
Haglin admitted to having sex with the 17-year-old almost every day for nine months, sometimes in her or his car, other times in the homes of the boy's parents.
Eventually, she said he convinced her to send him sexy photos of herself, including some naked selfies, which he later reportedly shared with his friends at school.
'I don't know what was going through his brain,' Haglin said. 'He thought it would be cool… bragging rights… I don't know.'
Haglin said she did not think he would disseminate the intimate snapshots 'because in my mind if you're in a real relationship, you don't just run around with your phone saying, "Hey, look, look everybody, look how hot my girlfriend is."'
She added, 'Looking back now I think, "Oh, my God, what was I thinking? What was I doing?"'
The 24-year-old woman placed the blame on the teenager, saying that he caught her in her 'weakest moment,' at a time she was having trouble with her boyfriend, which made her vulnerable to the underage Casanova's romantic advances.
The high schooler would write letters to her, calling her 'my empress' and 'Mrs Robinson,' in a reference to Anne Bancroft's iconic character from the movie The Graduate, in which a middle-aged woman seduces a recent college graduate, played by Dustin Hoffman.
In one letter, the adolescent wrote suggestively to his substitute teacher, who also moonlighted as a waitress at the time: 'I love the way you smell like pizza. It drives me crazy wanting a piece of the crust.'
Former teacher Mary Beth Haglin: Student seduced me
Haglin admitted to having sex with the 17-year-old almost every day for nine months
Teenage seducer: Haglin said the boy caught her in her 'weakest moment,' at a time she was having trouble with her boyfriend
According to the woman, her student was aggressive in his pursuit of her, constantly trying to kiss whenever they were alone in class, and even more than that.
Haglin claimed that when she tried to end things with the boy, he threatened to speak out about the affair.
'When things got way out of control, and I wanted out, he began saying, "I will light a match and burn your life down,"' she told the talk show host.
The scandalous relationship finally came to light when one of Haglin's female students, a junior named Tye, noticed what she described on the Dr Phil show as 'suspicious' behavior between the student and teacher.
She recounted how she would see the 17-year-old go into Haglin's classroom on breaks and close the door behind him.
The girl eventually went to her mother, Rebecca, with her concerns. The woman confronted Haglin and asked her point blank about the rumors swirling around the school.
Former teacher: Student convinced me to send sexy selfies
Bad teacher: Haglin (left and right), has been charged with sexual exploitation for having an affair with the student
+15
Haglin met the 17-year-old boy at Washington High School in Cedar Rapids in January
'She said, "Yes, it's true,"' said the parent. 'She kept telling me that she was in love with this young man, that as soon as he graduated, they were going to get married.'
Rebecca had Haglin write a statement confessing to the tryst, which she then took to school administrators.
Haglin was fired from her job in May at the conclusion of an internal investigation and arrested in July. If convicted, she could face up to two years in prison and be required to register as a sex offender for 10 years.
An earlier probe conducted in February had failed to prove any wrongdoing on Haglin's part.
Both investigations have since been labelled as 'ineffective' by the school district and led to the resignations of three high-ranking officials, according to The Gazette.
It is believed that Haglin and the victim had been in a sexual relationship for almost the entire duration of her tenure at Washington High School.
Speaking to Inside Edition  last month, the 24-year-old woman apologized for the hurt she has caused, but claimed that it was her underage lover who seduced her.
'He would come into my classroom, grab a Post-It, write something and stick it to my desk on his way out,' she said.
One note read: 'I love you so much, my empress.'

Teen Casanova: Haglin says it was the boy (seen right) who seduced her with love letters
Sticky love notes: Haglin shows the Post-It notes that her underage lover would leave on her desk after class
Regina moniker: One note allegedly penned by the victim read, 'I love you so much, my empress'
In return, the statuesque brunette sent the high-schooler risque selfies showing her posing in sexy lingerie.
By her own admission, Haglin fell 'completely head over heels' for the boy, and before long the pair began having sex almost daily in her car at a public park.
Haglin says that after a while, she allowed herself to think that she was in a 'real relationship,' but it all came to an end when another student spotted her and the 17-year-old and went to the authorities.
In retrospect, Haglin says it was 'stupid' to think that their forbidden liaison, which she described as 'a terrible mistake', could be kept a secret.
Raunchy snapshots: In exchange for the notes, the brunette beauty sent the high-schooler risque selfies showing wearing lingerie
Outdoor romps: Haglin says she and the boy had sex almost every day in her car at this public park
+15

Regrets: Haglin says it was 'stupid' to think that their forbidden liaison was a real relationship. The 24-year-old described what happened as 'a terrible mistake'
'I want to go back and smack myself and ask, "What were you thinking Mary Beth?"' she tells the site.
In an interview with The Gazette after her release from jail on bail, Haglin claimed school administrators were aware of the affair and told her to keep it 'hush-hush.'
In the wake of this bombshell revelation, a trio of long-time school officials, including Washington High Principal Dr Ralph Plagman, opted for an early retirement.
According to a cache of emails obtained by The Gazette in response to a Freedom of Information Request, Plagman even agreed to write Haglin a letter of recommendation in the midst of the second investigation into her suspected affair with the student.
 Daily Mail